| | |
| --- | --- |
| | Newswatch |
---
Airport lot to close for repair
The Diamond Head cell phone lot where motorists can wait for passengers arriving at Honolulu Airport will be closed Monday and Tuesday for maintenance, the state Department of Transportation said.
The lot is located along Aolele Street between the Delta Airlines and United Airlines cargo facilities.
Motorists are advised to use a recently opened Ewa cell phone lot near the airport post office near the intersection of Nimitz Highway and Aolele Street on Service Road A. That lot is open daily from 5 a.m. to 10 p.m.
TIPTOP FOR TOP GUN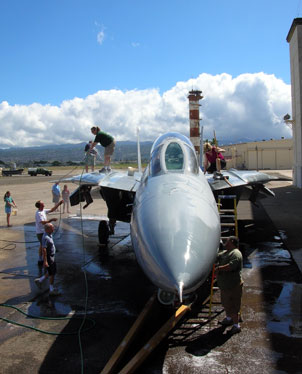 Health violations found at pier
The Pearl Harbor Naval Shipyard and Intermediate Maintenance Facility and a subcontractor have been cited by the state Health Department for multiple violations of storing hazardous wastes without a permit.
The subcontractor -- Hawaii Marine Cleaning -- was hired by BAE Systems to work at Bravo Pier 13.
The Health Department conducted a hazardous waste and used oil compliance evaluation inspection on Nov. 30, 2006. The state said HMC was storing more than 5,000 gallons of corrosive hazardous waste in 10 separate tanks on Bravo Pier 13. In addition to being acidic, the rinse waters that were generated from the cleaning of ship boilers and air-conditioning units also contained high levels of heavy metals such as chromium and lead.
The state said none of the 10 tanks containing hazardous waste were properly labeled, and some had been stored in excess of nine days on the pier. These unlabeled tanks were stored on the pier a few yards from the ocean, with both contractor vehicle traffic and Navy foot traffic passing back and forth nearby.
The shipyard and Hawaii Marine Cleaning face penalties of $110,000 for three instances of storage of hazardous waste without a permit. The facilities have 20 days to respond to the order. If they contest the order, the case will be set for a hearing.
Several attempts to get a comment from the shipyard were unsuccessful.
Hilo senior homes plan advances
HILO » Plans for 250 apartments for seniors in Hilo and a new Fire Department administrative center moved forward recently when Gov. Linda Lingle transferred management of 21 acres of state land to Hawaii County, the Governor's Office said.
Sixteen acres will be leased to the nonprofit Hawaii Island Community Development Corp. to develop an affordable rental housing project for seniors, the governor said.
Five acres will be home to police and fire communications centers, Fire Chief Darryl Oliveira said. Later phases will be a fire administration center and a classroom training facility, he said.
The two parcels are located mauka of the intersection of Komohana and Mohouli streets, a little more than a mile uphill from the county's Aupuni Center administrative site.
The transfer to county management was done at the request of Mayor Harry Kim.
| | |
| --- | --- |
| | Police, Fire, Courts |
---
HFD fireworks workload is lighter
Firefighters extinguished eight fireworks-related fires on Oahu as of 4:30 p.m. yesterday, according to Honolulu Fire Department spokesman Capt. Terry Seelig.
Six of the fires were wildfires, and one was a vehicle fire, Seelig said. Details of the eighth fire were not available. Last year, Honolulu firefighters fought 60 fireworks-related fires, which was down from 78 such fires in 2006.
The Honolulu Fire Department added extra staffing for yesterday in anticipation of potential problems, particularly because a severe lack of rain this year has left much of the island tinder-dry and susceptible to fire.
HONOLULU
Fall victim is ID'd as Ewa Beach man
The Honolulu Medical Examiner's Office identified a 68-year-old man who died after a construction accident as Herbert Lato of Ewa Beach.
Lato fell through a warehouse roof Thursday morning while doing construction work in Halawa Business Park and dropped about 40 feet. He was part of a construction crew working at the 99-1200 block of Waiua Place.
WAIKIKI
3 suspects nabbed in morning robbery
Police arrested three people Thursday in connection with the robbery of a 36-year-old man in Waikiki.
At about 9:20 a.m. Thursday the victim was walking when a 42-year-old man demanded his money and then reached for his backpack, police said.
Two women, ages 39 and 36, allegedly used force to take the victim's backpack. Police found the suspects a short distance away and arrested all three on suspicion of second-degree robbery.
WINDWARD OAHU
Blaze destroys empty house
Fire ruined a house in Ahuimanu yesterday.
The fire started at 6:21 a.m. at 47-280 Ahuimanu Road, said Honolulu fire Capt. Terry Seelig.
Three fire companies had the fire under control at 7 a.m. No one was home at the time. The Red Cross assisted a resident who returned later. Fire investigators did not have a cause or damage estimate yesterday.
Crew rescues pair from mountain hike
Firefighters rescued two visitors from Washington state who lost their way after dark Thursday on the Koolau Summit Trail.
The hikers, a 28-year-old man and a 24-year-old woman, began their hike near Pupukea Boy Scout Camp at 4:30 p.m.
They lost their way and called for help at 8 p.m.
A fire-rescue helicopter spotted them on the trail above Kahuku Motocross Park and guided firefighters to the hikers with its spotlight.
Firefighters brought the hikers out at 9:40 p.m.