---
State gas prices hit more records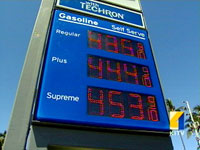 A red digital number displays the latest gas prices on the first digital electronic gas station sign in the state.
Hawaii's gas prices rose again this week with the statewide average rising to a record $4.45 on Wednesday before settling at $4.44 yesterday.
The statewide average is up 3 cents from a month ago and up $1.15 from a year ago.
Nationally, the average yesterday was a record $4.10, up 12 cents from a month ago and up $1.15 from a year ago.
In Honolulu, the average yesterday was a record $4.36, up 31 cents from a month ago and up $1.17 from a year ago. Hilo's average price was $4.49, off its record of $4.55 hit on Sunday, but up 34 cents from a month ago and up $1.18 from a year ago. And Wailuku's average price was a record $4.70, up 22 cents from a month ago and up $1.08 from a year ago.
Prices are derived from fleet vehicle credit card transactions at 85,000 stations around the country, including Hawaii. Prices are combined averages of the last card swipe of the previous day.
---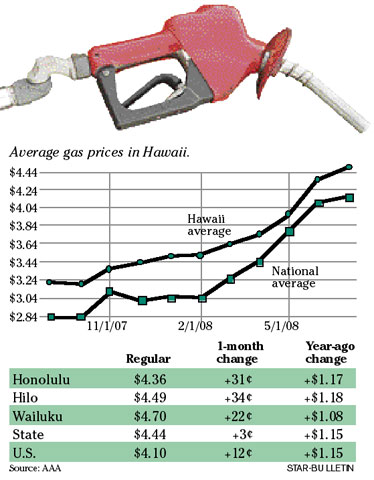 ---
Komeiji named HawTel counsel
John Komeiji, a senior partner at
Watanabe Ing & Komeiji,
has been chosen senior vice president and general counsel for
Hawaiian Telcom
. He will be responsible for legal, government affairs, support services and external affairs.
Komeiji is currently a lawyer representative to the Ninth Circuit Judicial Conference and has served as a lawyer representative to the U.S. District Court Conference and the state of Hawaii Judiciary Conference. Komeiji was appointed as an arbitrator and master mediator by the state of Hawaii Judiciary.
Also joining Komeiji in new executive positions at Hawaiian Telcom are Craig Inouye, who will take over as senior vice president for sales, and Steven Golden, who will be vice president for external affairs.
Inouye will be in charge of business sales, retail stores, wireless, customer contact centers and wholesale markets. Inouye joins Hawaiian Telcom after working at Sun Innovation Holding, where he served as director.
Golden will be responsible for regulatory issues, corporate communications and customer relations. Golden previously worked at the Gas Co., where he served as vice president of external affairs.
NATION
Oil prices fall more than $1
Oil prices fell more than $1 a barrel yesterday from record levels set a day earlier on hopes that tensions surrounding Iran's nuclear program could ease and cut the chances of American or Israeli military action against OPEC's second-largest oil producer.
Iran yesterday gave an undisclosed response to an international offer of economic and other incentives if it suspends a central part of its nuclear program.
Iran's ambassador to Belgium presented the response to European Union foreign policy chief Javier Solana in Brussels, Iranian state TV reported.
By late afternoon in New York, light, sweet crude for August delivery fell $1.04 to $144.25 a barrel in electronic trading on the New York Mercantile Exchange.
Canadian telecom, suitor OK deal
TORONTO »
BCE Inc.
, Canada's largest telecommunications company, said yesterday it has agreed on terms of a $35 billion sale to a group led by the Ontario Teachers' Pension Plan in the biggest leveraged buyout ever. The deal is expected to be completed by mid-December.
The announcement ends suspense that the banks funding the biggest buyout to date in Canada would try to back out of the deal or that the price would have to be lowered.
The acquisition price remains at 42.75 Canadian dollars ($42.08) per share in cash.
Citigroup, Deutsche Bank, Royal Bank of Scotland and Toronto-Dominion Bank are slated to provide billions in financing to complete the deal. Including assumed debt, the transaction is worth $51 billion.
---
BUSINESS PULSE