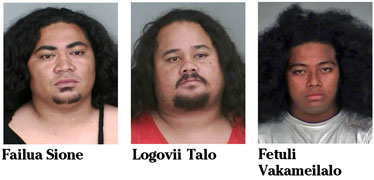 3 indicted on attempted murder charge
A beating victim could go blind and suffer brain damage for life
A 20-year-old man who was beaten with bats and a metal pipe in Wahiawa last weekend might go blind and have permanent brain damage, said Vickie Kapp, deputy city prosecutor.
"The victim sustained numerous head injuries, which included an open skull fracture, facial fractures, as well as brain injuries and a number of other lacerations," she said yesterday.
An Oahu grand jury returned an indictment yesterday charging the three men accused of beating Rooney Racoma during a brawl on California Avenue late Saturday night with second-degree attempted murder.
Fetuli Vakameilalo, 21, Failua Sione, 25, and Logovii Talo, 24, all of Wahiawa, remain in custody unable to post $100,000 bail. None of the men has a criminal record. They are scheduled to appear Monday in Circuit Court to answer to the charge.
Kapp said Vakameilalo used a baseball bat, Sione, a cricket bat and Talo, a metal pipe to hit Racoma multiple times on the head as he was lying unconscious on the ground.
Witnesses told police Vakameilalo also hit two other men who tried to help Racoma.
Police said they received reports of 15 to 30 men fighting with baseball bats. Responding officers found two groups of 20 to 30 males and females yelling at each other from different sides of the roadway on the 300 block of California Avenue. They also found Racoma lying in the middle of California Avenue unconscious and bleeding. An ambulance took him to the Queen's Medical Center in critical condition.
Police said two 21-year-old men who tried to help Racoma sustained face and head injuries.