Mililani murderer faced suit over debt
Michael James was accused of repeatedly writing bad checks
STORY SUMMARY »
Financial trouble beset Michael A. James only weeks before he killed his wife and young son and then hanged himself.
The Hickam Federal Credit Union sued the self-employed Mililani man on June 20, claiming he owed more than $10,800 after a string of bad checks.
The city Medical Examiner's Office determined yesterday that James strangled his wife, Grineline, a popular Farrington High School teacher, and drowned his son, Michael Jr., 7, before hanging himself.
Young Michael attended St. John the Baptist Catholic School, where the vice principal described him yesterday as "a very bright, studious boy."
---
FULL STORY »
A Mililani man who killed his wife and 7-year-old son before hanging himself had been sued about two weeks ago for a debt owed to a federal credit union.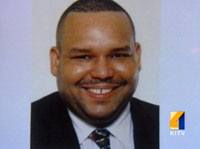 Farrington High School principal and St.John's vice principal talk about the James family, a family that seemed to be picture perfect.
On June 20, Hickam Federal Credit Union filed a lawsuit against 43-year-old Michael A. James for allegedly writing numerous bad checks. James owed the credit union at least $10,870.28, not including interest.
According to the lawsuit, James made out a Central Pacific Bank check for $5,000 payable to himself from his business account. James was doing business out of his home as Benchmark Marketing Group.
The check was returned for insufficient funds. James allegedly wrote repeated checks that continued to bounce. Officials from the federal credit union declined comment yesterday.
James strangled his 39-year-old wife, Grineline D. James, and drowned his 7-year-old son before hanging himself in the family's Mililani Mauka home this week, autopsies revealed yesterday.
The city's Medical Examiner's Office completed autopsies on members of the family yesterday.
Michael Anthony James Jr. had blunt force injuries to the head and had drowned. Grineline James, 39, died as a result of manual strangulation, the Medical Examiner's Office said. Both deaths were classified as homicide.
Michael James, 43, died by asphyxia due to hanging, a suicide. He was pronounced dead at 1:07 p.m. Wednesday.
The city Medical Examiner's Office said there is an ongoing investigation as to when the wife and son died. Police had said the mother and child died Tuesday night and that James died Wednesday morning.
A toxicology report will not be available for some time.
James had two business licenses, according to the state Department of Commerce and Consumer Affairs.
He marketed life insurance and annuity products as Benchmark Life Insurance and Annuity Consulting Group.
He also did business as Benchmark Marketing Group. Both businesses were registered in April 2005.
In his marketing business, James tried to market business opportunities. One of his ventures was offering an opportunity to sell a vitamin formula called 10-in-One Liquid Multi Formula.
He also attempted to sell lotto strategy through Benchmark Marketing Group.
On his MySpace profile, James' general interest is listed as "Making money." His quotation is "Making money online," and he listed his annual income as being between $150,000 and $250,000.
He also posted "People that like to make money also" under the area marked "Who I'd like to meet."