| | |
| --- | --- |
| | Island Mele |
---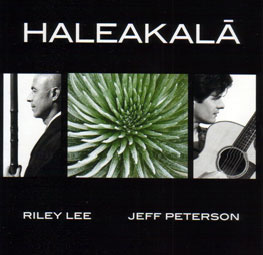 Haleakala
Riley Lee & Jeff Peterson
(Peterson Productions)
One of the mysteries of Hawaiian music is why Hawaiian musicians adopted and adapted some haole (non-Hawaiian) instruments and ignored others. The guitar, the ukulele and the acoustic "stand-up" bass have all become integral parts of contemporary Hawaiian music, but Japanese instruments have not.
That makes the ongoing collaboration between Hoku Award-winning slack-key guitarist Jeff Peterson and internationally known shakuhachi flutist Riley Lee so fascinating. The shakuhachi, a Japanese bamboo flute, is a natural fit for Hawaiian music, given Hawaii's 'ohe hano ihu (bamboo nose flute) tradition. Lee and Peterson prove it again with their fourth album.
Most of the songs here are Hawaiian standards. "'Ipo Lei Manu," "Lahaina Luna" and "Wahine 'Ilikea" are good examples of the duo's success in combining the two musical traditions. Peterson has emerged in recent years as a guy who can deliver rock, jazz and big-band pop music as well as slack key; his arrangements draw on his diverse repertoire without losing touch with the original melodies.
There's also good balance between the instruments. The warm tones of Peterson's guitar are complemented beautifully by Lee's flute on "Ipo Lei Manu," while the flute carries the melody throughout most of "Maori Blue Eyes" and "Akaka Falls."
The duo shares credit for one of the four original compositions. Peterson wrote the other three. One of that trio, "Sliding Sands," has a cosmopolitan sound that carries the duo closer to the Japanese end of their repertoire.
The album's interplay between ki ho'alu and shakuhachi seems so natural that one wonders why it took so long for the two to be combined. The important thing is that Lee and Peterson are continuing to explore the possibilities.
---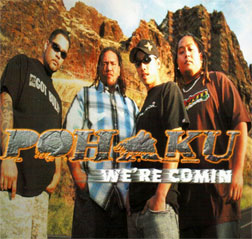 Pohaku
Pohaku
(Pohaku Productions)
On first impression, it sounds like Pohaku -- Daniel "D-Mon" Keliikoa, Ka'eo "Shaggamon" Wilhelm, Adam "Adam Juice" Marques and Garrett Sevellino -- is "comin" with "reggae rootz" music in much the same old style as many of their Jawaiian predecessors. The title track is a perfect example, and therefore should certainly suffice to get them play on local radio. If the catchy rhythm doesn't do it, the one-size-fits-all imitation-Jamaican accents will.
The quartet gets past the Jawaiian 101 stuff and earns an instant reappraisal with their third song, "I Love You." Composers' credits aren't included, but odds are that this romantic number is an original. The lead vocalist chucks the faux-Shaggy accent, the other guys add falsetto harmonies, and suddenly Pohaku is "comin" with something that's more than average. All things considered, "I Love You" is one of the year's best new Jawaiian songs.
Pohaku already has all it needs to be a basic Jawaiian flavor-of-the-month act, but they have the potential to be more than that.
---
John Berger
, who has covered the local entertainment scene since 1972, writes reviews of recordings produced by Hawaii artists. See the Star-Bulletin's Today section on Fridays for the latest reviews. Reach John Berger at
jberger@starbulletin.com
.