'Music on the Moon' set for launch this weekend
AFTER months of experimenting with a late-night club vibe on Fridays,
Brew Moon
has decided to add live music to the mix at the Ward Centre restaurant and microbrewery.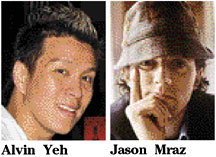 Starting this week, "Music on the Moon" features no cover charge and no dress code for the 21-and-over crowd, with $2 Brew Moon drafts and Pohaku playing live. Joshua Alo and the Ionz follow on July 11, with Micah G checking in on July 18 and Kaipo Kapua performing on July 25.
Saturdays continue to focus on DJs and dancing, with Downtowne's "Socialite Saturday" every third Saturday and No Way Out Entertainment's "The Sauce" the rest of the month ...
EVERYTHING APPEARS to be right on schedule for Waikiki Nei, the new Hawaii-themed production that "transports the audience on a stunning journey through the legendary evolution of Waikiki from its historic, diverse past to its present as a world-famous paradise destination."
Got all that? If you want to check out the spectacle, sneak previews begin at 6 p.m. Tuesday. Tickets are $49 to $99; call 931-6200 .
What I'm more interested in, however, are the plans for Waikiki Nei's transformation into LEVEL4 Nightclub and Ultra Lounge. Around 10 p.m. on the weekends (and probably earlier during the week), the venue's seating will retract to reveal a 4,500-square-foot dance floor and five full-service bars. Your first chance to experience LEVEL4 comes July 19.
From what I understand, Moanalua grad and former Las Vegas resident Alvin Yeh is on the staff at LEVEL4. After a stint as general manager at Pearl Ultralounge, he's the perfect fit for Waikiki Nei producer Roy Tokujo's vision to execute a Vegas-like party experience ...
NOTES AND NEWS: After making his Waikiki Shell debut in May, Jason Mraz returns for another performance in support of "We Sing. We Dance. We Steal Things." He's the second artist (after 311) announced for "Band Camp VI" on Aug. 16 ... Congrats to brother and sister salsa duo Judah "Da Lion of Judah" Oschner and Sunshine Oschner. The Kailua residents took first place last weekend during the Hawaii Summer SalsaFest, winning round-trip airfare to Florida and entry into the "ESPN World Salsa Championships" later this year ... Cecilio and Kapono have announced a fall reunion tour that launches Aug. 23 at the Shell. "Back in the Day" will also feature Kalapana and Summer, with a portion of the ticket proceeds going to Keiki O Ka Aina Family Learning Centers of Hawaii; visit www.C&K35.com for more. After performing here, C&K move on to shows in Colorado, Nevada, Oregon, Washington and California in September and October before returning to the islands for a Nov. 22 performance on Maui ...
SATURDAY'S PICKS: Pohaku celebrates the release of "We're Comin" with an 18-and-over party at the Hawaiian Hut (check out John Berger's Island Mele on Page 30 for a review of the CD). Next Generation, Hot Rain, Mr. 83, BW and Light Um Up are among the bands scheduled to play; doors open at 9 p.m. ... Gambla presents "The Day After Reggae Rayjah" at Pipeline Cafe. This one is 18-and-over as well, with live sets by Lamb's Book, J Dubb, Wrecking Crew and the Ionz starting at 10 p.m. ... New Waikiki watering hole King's Pub continues to establish itself as a haven for live rock. This week's "Saturdays Rocks" showcase features sets by Degenerate Machine, Dusk at Hand, the Resorts and D's of Doom. The music starts at 10 p.m. ...
NEXT WEEK: The Lightsleepers partner with Easy Music Center to present "Beat Root," Honolulu's only hip-hop event to focus on producers and their original beats. There's no admission for Thursday's competition, which serves as a qualifier for the 2008 grand championships ... After a month at Doraku Sushi, the Architechs and Tantriq Entertainment move to Longhi's for "Free Bar Thursdays" with Double-O-Spot. As the name implies, "FBT" features no cover and a relaxed dress code for the 21-and-over crowd. DJs Delve and XL will spin ... Get an early jump on next weekend with a Thursday performance by DJs Rhettmatic and J. Rocc from the World Famous Beat Junkies. Stones Throw hosts the one-off party that starts at 9 p.m. ...