Family killed in Mililani
» Police say Michael James murdered his wife and son, then killed himself
» It is the third murder-suicide on Oahu in less than 3 months
STORY SUMMARY »
|
READ THE FULL STORY
A Mililani Mauka man killed his wife and their son Tuesday before taking his own life, the third murder-suicide on Oahu this year.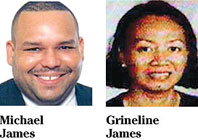 Police say it appears Farrington High School teacher Grineline James and son Michael Jr. were killed at the hands of Michael A. James, who committed suicide yesterday at the home at 95-1042 Moohele St.
Neighbors and Grineline James' co-workers expressed shock and confusion over the violent end to a nice, quiet family.
Catherine Payne, principal of Farrington High School, praised her employee as a dedicated teacher, one of the best at the school.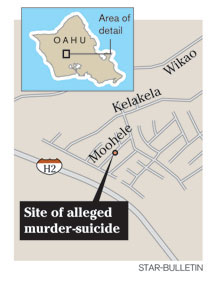 "It's very, very tragic. It's beyond my comprehension that something like that could happen. She was such a good person and a wonderful mother to her son," Payne said.
Honolulu police expressed frustration at the third domestic murder-suicide in Honolulu in less than three months. More than half of the 11 homicides on Oahu this year involve domestic violence.
"If you've got domestic violence going on in your family, do something about it," said Honolulu Police Department Maj. Frank Fujii. "I'm sure that all the victims that died as the result of domestic violence, none of them thought that it was going to happen to them."
ROB SHIKINA AND ROSEMARIE BERNARDO
---
FULL STORY »
Three family members were found dead in a Mililani Mauka home yesterday in a double murder and suicide.
Police made the grisly discovery yesterday about noon after a postal worker found a suspicious note in the mailbox and reported it to a supervisor, who called police.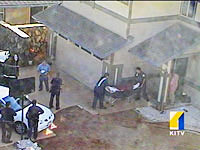 Police found a family of three dead in a Mililani home after a woman mail carrier found a note in the family's mailbox.
Arriving officers found the front door at 95-1042 Moohele St. unlocked. Inside they found more notes directing them to the dead family on the second floor: a 43-year-old man, a 39-year-old woman and a boy, 7.
Neighbors identified the man as Michael A. James, a retired veteran who worked from home selling insurance. His son was Michael, and his wife was Grineline James, a Farrington High School teacher.
An online listing said James worked for Benchmark Life Insurance & Annuity Consulting Group from that address.
Honolulu Police Department Maj. Frank Fujii said police believe James killed his wife and son Tuesday evening and committed suicide yesterday morning.
Police found the woman and child in a bed covered with a sheet, while James was found hanged in a home office. He left a suicide note saying he killed his wife and son, police said.
Fujii declined to describe the injuries but ruled out gunshot wounds.
Yesterday's discovery disturbed the quiet, new neighborhood as police taped off one end of Moohele Street until shortly after 6:15 p.m. The house where the killings occurred is at the corner of Moohele and Ukuwai streets. On the driveway a basketball hoop stood next to a white Hyundai sedan.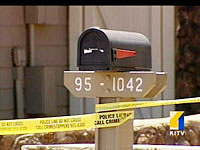 Many neighbors say that the neighborhood is very quiet and are surprised at what had happened in the James' family home.
Mark Pacpaco, 31, who lives directly behind there on Moohele Place, said the family moved there about 18 months ago. He talked with James about landscaping and said James was a retired veteran.
"The guy always had a smiling face," he said. "He seemed like a real nice guy."
Donna Carter, who lives across the street, said James introduced his family when she moved in last December.
"They were a nice family," she said. "Mike was really friendly. He was the first one to come and welcome us."
"He loved his son," she said, adding that he enjoyed playing basketball with his son.
The family was quiet and kept to themselves, she said.
"I'm just very upset," she said. "It's a shame. You hate to see a family destroyed like that."
Catherine Payne, principal of Farrington High School, said Grineline James had worked at Farrington since January 2003.
"She was a magnificent teacher, very much loved by her students and her colleagues," Payne said. "We're just devastated by her loss."
Payne described her as a "quiet but strong person," adding she was "very kind and thoughtful."
"She was one of the best teachers in the school. Every student in her class learned from her," she said.
Grineline James told co-workers that she would be away next week to attend the funeral of her husband's brother.
Police Chief Boisse Correa visited the house briefly yesterday evening and left without speaking to reporters. Relatives arrived in a blue van and spoke briefly with police. One woman raised her hand to her mouth during the conversation.
Fujii said the double murder is the 10th and 11th homicides this year. More than half of them are related to domestic violence.
MURDER-SUICIDES
The other murder-suicide cases on Oahu this year:

» May 26: Police responded at 6:39 p.m. to a dropped 911 call at 99-801 Halawa Heights Road. The officers heard nothing but a disconnected phone, entered the apartment and found 60-year-old Eliseo Dumlao Jr. and 45-year-old Marissa Dumlao shot dead. Police found a 9 mm handgun on the husband's chest and said he shot his wife before killing himself. Marissa Dumlao left behind an 18-year-old daughter.

» April 25: At 11:51 p.m., neighbors of 91-1635 Kaukolu St. heard gunshots coming from the home. Police found 38-year-old Della Dikito shot dead in the bathroom. Her husband, 39-year-old Domingo Dikito, was found in the garage, dead from a self-inflicted gunshot wound. The couple left behind three daughters — ages 8, 13 and 15 — and an 18-year-old son.
OTHER DEATHS
Other homicide cases on Oahu related to domestic violence this year:
» Jan. 9: Jenny Hartsock, 39, was stabbed multiple times allegedly by her 40-year-old husband Roy William Hartsock outside their apartment at 757 Gulick Ave. in Kalihi.
» Jan. 16: Janel Tupuola, 30, was beaten to death, allegedly by her ex-boyfriend, 29-year-old Alapeti Siuanu Tunoa Jr. Police said Tunoa used the butt of a shotgun and beat Tupuola in the middle of a street in front of horrified spectators. The couple had a 2-year-old daughter.