THE BREWERIES
Mehana's key ingredient: Family knows best
By the time Dustin Shindo arrived at the University of Washington in the early 1990s, Seattle's craft-beer industry was booming.

Mehana Brewing Co.
275 East Kawili St., Hilo
(808) 934-8211
www.mehana.com

» Founders: Calvin and Dustin Shindo

» Beers: Humpback Blue, Pale Ales, Roy's Private Reserve, Volcano Red, Hawaii Lager

» Available: Bottles throughout the state; Roy's Private Reserve shipped to mainland Roy's restaurants; on draft at several dozen isle restaurants

» Seasonals: None

» Open since: 1995

» Size of brewery: 7,000 square feet, 15-barrel system

» Production: More than 3,000 barrels a year, up from fewer than 1,000 in first year

» Employees: 10 to 14

» Distributor: Self-distributed on Big Island; Paradise Beverages Inc. on all other islands
Local beer makers Redhook Ale Brewery and Pyramid Breweries Inc. were expanding nationwide, and Shindo, then an undergraduate accounting student, brought craft-brew fever back to his family in Hilo.
That was more than 10 years ago, when Mehana Brewing Co. — coming from "Ka Mehana o ka La," or "the warmth of the sun" in Hawaiian — was founded with two beer styles and three employees. It is now the fourth-largest brewery in the state.
Today the Hilo brewery carries five beers — the products of schooling, studying and tasting by Shindo and his father, Calvin, who has operated Mehana since Dustin founded Kapolei-based alternative energy company Hoku Scientific Inc. in 2001.
"We decided to make beers that were a little bit different than what you'd find on the mainland, a little bit lighter," Calvin said. "It has been an experiment all along trying to develop the beers."
Calvin, who owned Hilo Soda Works, a Big Island Pepsi-Cola distributor until 1996, now brews up to six times a week in Mehana's 15-barrel facility, which also houses a tasting room. The company's more than 10 employees include Calvin's wife, Karen, and younger son Ryan, as well as three other relatives. Dustin still makes the occasional sales call and also helps with strategic planning.
"While every business has unique challenges, the ones that matter most are not unique at all," Dustin said. "For instance, like other businesses, the increasing cost of raw materials, shipping and electricity make running a brewery in Hawaii challenging."
Calvin works most days, sometimes starting before 6 a.m. and closing around 9 p.m. to handle annual sales growth that has hit 20 percent. In 2001, Mehana doubled its fermentation tank capacity and two years later added a labeling machine.
"A lot of our early customers were people who had moved to Hawaii from the mainland or young people to the mainland," he said. "It's a cross right now — one time it was all young, now it is older, too."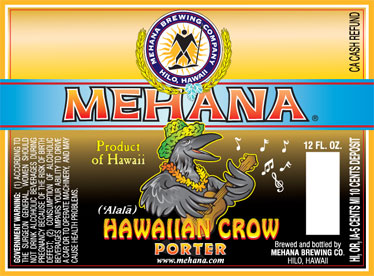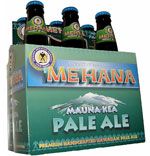 Did you know?
»
Roy's Private Reserve:
Mehana Brewing Co. brews this exclusively for Roy's Restaurants.
» Humpback Blue: Introduced in 1996, it is the lightest of all their products.
» Volcano Red Ale: Also introduced in 1996, it took the bronze medal at the World Beer Championships in 1999.
» Mauna Kea Pale Ale: Introduced in 2000, it is known for its fresh hoppy nose and smooth body and finish. Its claim to fame is its dry hops.
» Hawaii Lager: Introduced in 2001, it is the company's best-selling brew.
» Hawaiian Crow Porter: Introduced last year, it has a rich coffee taste. Available only on the Big Island.