THE LOWDOWN
Crafters brewing up a storm
Hawaii's brewers are ramping up production to meet a jump in demand
Large white Maui Brewing Co. banner hangs over the entrance to the Yard House in Waikiki.
Lingo
» ABV: Alcohol by volume, or the amount of alcohol in a beer

» IBU: International bitterness unit, a measure of the bitterness of beer

» OG: Original gravity, a ratio of the density of wort to the density of water
There's so much beer being served at the large rectangular bar inside that it overflows a stack of small plastic cups near where Garrett Marrero is leaned over, talking to one of a half-dozen bartenders about his beers.
"The response has been phenomenal," he said. In just six weeks, Marrero's brewery has become one of the bar's top 10 best-selling beermakers.
Across town at Bar 35, Keoki Brewing Co. owner Andy Baker is hosting the weekly House of Brews tasting, featuring eight craft brews from the Pacific Northwest. It's one of several brewing events he holds each month on Oahu.
"You see an educational process going on," he said. "That's what we are all doing. We are all educating people to understand why this beer is different than other beers, and people are learning."
In addition to four brewpubs, Hawaii is home to four craft breweries — Keoki Brewing in Lihue, Maui Brewing in Lahaina, and Kona Brewing Co. and Mehana Brewing Co. on the Big Island — and never has the state produced so much beer. In the past year, brewers have seen sales grow into the double digits, with expanded production facilities running near capacity to meet demand.
"When a beer is ready, we keg it off and fill the tank again," said Rich Tucciarone, brewmaster at Kona Brewing Co.
Marrero ramped up brewing operations this summer to seven days a week from four to fill mainland orders and wider isle distribution.
"We've only taken it on less than a year, and it's gone from zero to 1,500 cases," said Sal Bruno, beer manager at beverage distributor Paradise Beverages Inc. "We could sell more than they could make at this point. It's not cheap but it's in really high demand."
MARKET SHARE
Even with sales growth of 11 percent last year, craft brewers have less than a 6 percent share of the U.S. beer market.
"I believe that number can approach 10 to 12 in the next 10 years," Baker said. "I think you will see in the next 10 years that the craft industry will have grown faster than the prior 10 years in Hawaii."
Liquor sales in Honolulu County, including spirits and wine, are expected to total $858 million this year, up 8.5 percent from $791 million in 2007. More than $3.4 million of that came from Honolulu's three brewpubs.
Keeping it local

Garrett Marrero (right), owner of Maui Brewing Co., likes to keep his beers local. He uses coconut roasted in an oven at his Lahaina brewery in his Coconut Porter and Maui Gold pineapple juice in the Mana Wheat. He's even tried Manoa Honey Co. honey in several brews.

"We get what we can get on Maui, and if we can't get it on Maui, we get (it) in the state, and then outside that," he said.

Marrero isn't the only one. Kona Brewing Co. brews its limited-release Pipeline Porter with Kona coffee.
Imported brands such as Steinlager, New Castle Brown Ale and Heineken are also chipping away at an isle beer market still dominated by Anheuser-Busch Co.'s Budweiser and Bud Light, which make up 80 percent of the company's Hawaii beer sales.
Craft beers and imports such as Beck's and Stella Artois now total a 14 percent share of sales by Anheuser-Busch Sales of Hawaii Inc., said Vice President Chad Hoffmeister. Anheuser's craft beer segment, which includes Redhook and Widmere as well as Kona, has grown by double digits in the last eight years.
"Variety is important to keeping the interest," Hoffmeister said. "People are not as loyal to craft brews."
George O'Hanlon, general manager of the Liquor Collection in Ward Warehouse, said a greater number of beers are now vying for shelf space.
"That's part of a two-decade effort to get beers in Hawaii that are more interesting," he said. "The market is changing everywhere."
Hawaii is Heineken's top U.S. market, with 2.5 million cases sold annually here. It is the No. 1 seller at Bar 35 out of 187 beers, with 5 percent of total sales, said general manager George Seabolt. Kona is his most-requested isle brew.
"The majority of the time when they first come in, they ask for Bud, Bud Light, Coors, Coors Light," he said. "But the younger kids are getting into the craftier beers."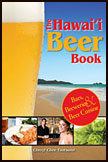 LIGHT READING
The Hawaii Beer Book
Watermark Publishing, $15.95
Released late last year by travel journalist and Star-Bulletin columnist Cheryl Chee Tsutsumi, the book gives an overview of island beer, including recipes and basic brewing techniques.
'GAINING IN PROMINENCE'
Walt Gample, owner of isle beer, wine and spirits distributor Allied Distribution Inc., started distributing craft beers about three years ago as he got more requests for craft beers ranging from small breweries in California to imports such as Chimay. Craft beers now make up 10 to 20 percent of his business.
$1,500 vs. $300
The amount of business Waimea Brewing Co. waitress Mary Cusimano will do on a busy day as opposed to a slow day.

"Ever since Aloha quit flying it's been real slow," she said. "It's been slow because of the planes, but it's also probably slow because of the recession."
"We put no particular effort behind it because we considered it a minor category, but it just keeps growing and growing," he said. "A lot of the big distributors don't have enough time for this, so this is more like a fine wine — people with very discriminating tastes and the pocketbook to afford it."
Costs of local beers, which sell for twice the price of some domestic beers, are affected by taxes and isle distribution and manufacturing.
Kona Brewing Co. President and Chief Executive Mattson Davis said his company faces the highest electric rates in the nation — up to 32 cents per kilowatt-hour — and shipping rates that make it cheaper to ship full bottles of beer from California than filling locally. Isle distributors also face the second-highest beer excise tax rate in the country behind Alaska, at 93 cents a gallon for bottles and 54 cents a gallon on draft beer. Those costs are passed on to the consumer.
"There's a lot of economic questions," said Keoki's Baker, who has plans to move the brewery's bottling operations to Hawaii from California. "Freight rates going in between the islands are going up. You've got to dig deep inside yourself."
For Kona Brewing, mainland production led to isle distribution. Kona's beers are now distributed in 17 states.
"Hawaii breweries are gaining in prominence," said Paul Gatza, director for the Boulder, Colo.-based Brewers Association. "One thing I think about with Hawaiian brewing potential is the access to unique ingredients — coconuts, honeys from unique pollen sources, various fruits."
BREWING OVER
Of Hawaii's four major craft breweries, three — Keoki Brewing Co., Mehana Brewing Co. and Kona Brewing Co. — have been operating for more than 10 years. It's the first time in history the state has had such an established beer manufacturing market, fueled in recent years by double-digit increases in sales of local brew.

Whether it's the two main beers produced by Keoki Brewing Co. or the dozen varieties offered by Kona Brewing Co., each brewery is expanding production, doubling or tripling capacity to handle a burgeoning mainland market and increased craft-brew shelf space at local supermarkets.