Marine leader a 'role model'
Max Galeai was one of three isle-based Marines killed in Iraq
»
Fellow Kaneohe Marines react to the deaths
» Al-Qaida claims responsibility for the bombing
STORY SUMMARY »
The commanding officer of about 1,000 Kaneohe Marines was remembered yesterday as a role model who was proud of his Samoan heritage and cared about his family.
A suicide bombing killed Lt. Col. Max A. Galeai, 42, of Pago Pago, American Samoa, Capt. Philip J. Dykeman, 38, of Brockport, N.Y.; and Cpl. Marcus W. Preudhomme, 23, of North Miami Beach, Fla., Thursday in Anbar province in Iraq.
All three were based at Marine Corps Base Hawaii in Kaneohe.
"When I heard the news, I just didn't believe it," said Galeai's sister Joan. "I closed my eyes, and I can see his face and the thoughts of how he went. It was shock and emptiness."
---
FULL STORY »
Growing up, Joan Galeai, the older sister of a Kaneohe Marine leader who was killed in Iraq, remembers protecting him from bullies as they walked home to Leone village in American Samoa.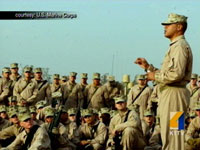 Three Kaneohe Marines died in action while in Iraq and are remembered by family and friends.
She feels a little guilty, she said, that she couldn't save him.
"I've always looked at it where I was the protector. But I know he wouldn't want me to feel guilty," Joan Galeai said by phone from American Samoa.
On Thursday, Lt. Col. Max A. Galeai, 42, of Pago Pago, American Samoa; Capt. Philip J. Dykeman, 38, of Brockport, N.Y.; and Cpl. Marcus W. Preudhomme, 23, of North Miami Beach, Fla., were meeting with tribal and government leaders in the town of Karmah, near Fallujah in Anbar province. A suicide bomber dressed as a security officer detonated an explosive belt, killing more than 20 people, including the three Kaneohe Marines.
Galeai remembered her brother as a man who loved his family and his Samoan heritage and who wanted to follow in his father's footsteps.
Growing up in a Navy family, Joan Galeai described her brother as a "quiet boy" who was "kind of nerdy" and was "always into his books and never played sports."
Joining the Marines after graduating from Oregon State University, Galeai became a leader, commanding about 1,000 Marines from the 2nd Battalion, 3rd Marine Regiment, which deployed to Iraq in February.
Honolulu Mayor Mufi Hannemann said he knows Galeai's family. "It's always a sad day when you lose someone defending our country for a war that is dividing the people," Hannemann said yesterday.
"He was a great role model," Hannemann said. "It's a loss not only felt in American Samoa, but by Samoans everywhere."
Col. Duffy White, commanding officer of the 3rd Marine Regiment, said: "We found it difficult to anticipate what questions might be asked. So we decided to send the message of sorrow for the loss of such great men, but that their service and sacrifice mean something and that they and (the 2nd Battalion, 3rd Marine Regiment) are making a positive difference."
Galeai is survived by his wife Evelyn; son Thomas; daughters Kara-Ann, Selina and Tamara; mother Kalala; brother Forest; and sisters Lina, Joan, Lafo and Vanessa.
Galeai's mother was in Seattle when she was informed of his death. Joan Galeai was at her job as a checking agent at Hawaiian Airlines in American Samoa when her mother called.
"I dropped the phone and I was screaming in the office," she said.
Galeai kept in touch with relatives through a private family profile they built on Myfamily.com. He posted messages once or twice a month while he was deployed.
"He used to tell us that for everything we do in life, we have to stay focused on your priorities and take care of your family," Joan Galeai said.
She last spoke her brother days before he deployed in February. The last words she heard him speak were, "I love you, take care and I'll see you in September when I get back."
She chuckled when she remembered how often she would badger her brother to retire and return home. She sighed before mentioning that his body returns to Leone, on Tutuila Island, on Tuesday.
"I'm just kind of relieved now that he's going to be here with us," she said. "Here in Samoa, you bury your dead in your own land. He'll be right next to my bedroom, right next to my dad."