Driver dies after SUV flips in crash
A two-vehicle crash caused an SUV to flip off the freeway yesterday, killing a 52-year-old Mililani man and turning late-morning town-bound traffic into gridlock.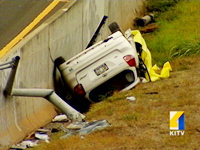 A man died this morning after another car clipped his car near the H-1 and H-2 merge by Leeward Community College.
At 10:26 a.m. yesterday a 19-year-old Waipahu man was driving his car east on the H-1 freeway in the second lane from the median.
Just past the Farrington Highway overpass, he swung into the left lane and hit a sport utility vehicle, police said.
The SUV, driven by a Mililani man, left the freeway, struck a light pole and overturned before coming to rest on the concrete median. The driver, pinned upside down inside his vehicle and extracted by firefighters, was later pronounced dead at the scene.
The 19-year-old driver had two passengers in his vehicle, a 19-year-old woman and a 9-month-old boy. They were not injured.
The city Medical Examiner's Office did not release the victim's identity yesterday. He is the 24th traffic fatality on Oahu this year, compared with 36 at the same time last year.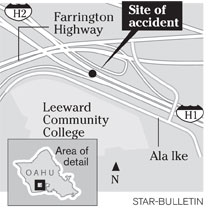 Two lanes on the H-1 freeway were closed from 10:30 a.m. to 1:55 p.m., backing up town-bound traffic from the H-1 and H-2 freeways. H-1 traffic flowed at a moderate pace a short distance away from the crash site.