Pali tree-pruning begins Monday
Pali Highway commuters beware: Starting Monday, Kailua-bound traffic will be delayed and one lane will be coned off as crews trim and remove roadside trees.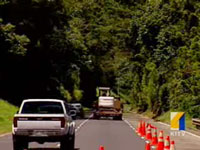 The state wants to make sure trees don't come crashing down on people as they drive on the Pali Highway.
After finishing their work on the Kailua-bound side of the highway, crews will begin work on the town-bound side.
To avoid affecting evening rush hour, the work will be done between 8:30 a.m. and 2:30 p.m. Monday through Friday until December, when it is expected to be completed.
The project to improve the safety of the Pali Highway comes after several incidents earlier this year in which trees and branches fell and damaged passing cars and disrupted traffic flow, explained Tammy Mori, spokeswoman for the state Department of Transportation.
The state is conducting the work in consultation with the Outdoor Circle, an environmental advocacy group.
"We think it's good that the DOT is working with us on this. It adds to public comfort that these trees aren't being needlessly removed," said Bob Loy, environmental director with the Outdoor Circle. "People expect us to be a watchdog on this, so that's the role we're going to fill."
In total, about 165 trees are to be removed or pruned for safety reasons, including ironwood, swamp mahogany, Formosa koa and gunpowder trees.