Maui graduate dies on Iraq deployment
Although he loved pole vaulting, Eugene D.M. Kanakaole switched to the shot put field event just three weeks before state finals during his senior year at Maui High School.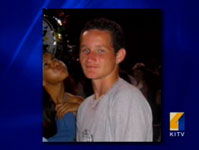 All the military is releasing is that the soldier died of non combat injuries.
His coach, Allen Kennedy, told the Star-Bulletin that Kanakaole made the change because he was just too heavy for pole vaulting.
"And within only three weeks of practice he placed eighth," Kennedy added. "He was very mature for his age and very strong-hearted."
A foster child, Kanakaole enlisted in the Army in October 2007 shortly after graduation and was sent to Iraq in May as a combat engineer.
He died last Wednesday in Balad, Iraq, of injuries suffered in a noncombat incident. He was a 19-year-old private assigned to the 87th Engineer Company, 8th Engineer Battalion, 36th Engineer Brigade, Fort Hood, Texas.
An Army statement contained no details on how Kanakaole was injured, but the Defense Department said his death is being investigated. There was no immediate comment from a spokesman at Fort Hood. Funeral services are pending.
He became the ninth soldier with Hawaii ties to die in Iraq this year. Seven of the others were members of the 25th Infantry Division's 2nd Stryker Brigade Combat Team.
Since March 19, 2003, when the United States invaded Iraq, 83 soldiers, four sailors, 80 Marines, two Air Force personnel and one civilian with Hawaii ties have been killed in Iraq.
Kennedy, who is a business teacher, said he believes Kanakaole enlisted in the Army after graduating from Maui High in 2007 "because he realized that he needed self-discipline and the Army was the best place for him."
He had transferred to Maui High School from King Kekaulike High School, where he had played football during his junior year, and went out for track and field because he was ineligible for Maui High's football team.
"He really wanted to be a pole vaulter," Kennedy added, "and enjoyed hanging around those kids."
But he was too heavy and Kennedy said he didn't want Kanakaole to lose weight to compete.