Vegetarian lifestyle runs in the family
Cookbook author Patricia Bragg continues her late dad's crusade
With our own forks and knives, we either dig our graves or prepare for healthy long lives -- these are words that Patricia Bragg has been preaching for decades.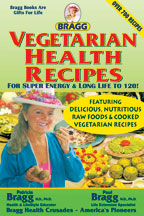 "Food is fuel for the body -- it either produces health or sickness," Bragg said. "What you eat and drink today, walks with you tomorrow."
In her view, supermarkets are stocked with dead, processed foods, many which have been stripped of vitamins and minerals. Preparing and consuming healthful foods benefits the body from head to toe (including bones, blood, teeth and eyes), she explained.
Bragg is the adopted daughter of the late health crusader Paul C. Bragg, who pioneered radio and television health programs and started a health-food product line carried in natural foods stores nationwide. She lives part time in Hawaii and California and also spends time on her organic farm in Australia.
Bragg is a life-extension nutritionist who has authored 22 books, the latest -- "Vegetarian Health Recipes: For Super Energy & Long Life to 120!" -- released this month. It offers an array of recipes from breads and muffins, soups and vegetarian entrees to candies and desserts that promote the use of Bragg products such as amino acids and seasonings.
Why vegetarian? Bragg believes that a vegetarian diet is optimal for health and she strongly opposes the mistreatment of animals. "Keep foods simple, fresh is best," she added.
A conversation with Bragg is more like a health lecture, filled with tips on health maintenance. One is never too old or too young to begin a healthy lifestyle, she explained.
For example, Bragg suggests giving children celery and carrot sticks, apples, pears, peaches and nectarines, using a nut butter (such as peanut or almond) as a dipping sauce. They enjoy simple things, like finger foods, she said, and these items are better than many alternatives. "The main thing -- go organic as much as possible."
Bragg warns against consuming too much coffee. "Caffeine burns out the nervous system," she said.
She also recommends fasting once a week. "The average person has 70 trillion cells that need to be cleansed and purified."
Water is another necessity, as it "operates all of our machinery."
Aside from diet, exercise also is a must, Bragg added. A free Bragg Exercise Class is offered from 9 to 10:30 a.m. Mondays to Saturdays on the Fort DeRussy Lawn in Waikiki.
Molasses Fruit Bars
1/2 cup olive oil
1/2 cup raw honey
1/2 teaspoon baking soda
1 teaspoon baking powder
2 cups raw nuts, chopped
1 cup soy or rice milk
Egg replacer, equal to 2 eggs
1 cup molasses or pure maple syrup
3 cups sifted whole-grain pastry flour
2 cups raisins or dates or mixture of both, chopped
Preheat oven to 350 degrees.
Cream olive oil and honey gradually, until light and fluffy. Add egg replacer and molasses; blend thoroughly.
Sift whole-grain flour once. Measure; add baking soda and baking powder and sift again.
Add to creamed mixture alternately with soy or rice milk, a little at a time. Beat thoroughly after each addition. Add chopped nuts and fruit.
Spread in very thin layer in several shallow, oiled pans. Bake 10 to 12 minutes.
Cool and cut into 2-inch squares. Makes about 8 dozen bars.
Nutritional information unavailable.
Nutritional analyses by Joannie Dobbs, Ph.D., C.N.S. Cookbooks are available at Down to Earth and at
www.bragg.com
.