---
Waianae Coast gets own farmer's market
The Hawaii Farm Bureau extends its open-air markets to the Waianae Coast this weekend, with the opening of a market Saturday at the Makaha Resort.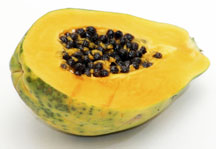 The Waianae Farmers' Market will offer fresh fruits, vegetables and locally produced foods from 7:30 to 11 a.m. on the first and third Saturdays of the month.
It will be the first of the Farm Bureau markets to accommodate food-stamp recipients, who can use their Electronic Benefits Transfer cards to purchase tokens that can be used at vendor stalls.
Opening day will include entertainment by the resort's Danny Kelly and Ron Igarta, and the tennis court and batting cage will be open to the public. Call 696-1599 or 848-2074. -- Star-Bulletin