Ewa neighbors recovering after fire
Residents relieved and concerned after fire
STORY SUMMARY »
Waimomona Place neighbors comforted each other yesterday after a fire Friday night burned two homes in the normally quiet cul-de-sac in the Soda Creek subdivision of Ewa by Gentry.
No one was hurt in the three-alarm fire, which caused an estimated $840,000 damage.
Neighbors brought food to a 61-year-old man and another elderly neighbor, whose homes are now unlivable.
They also worried about how close the homes in the subdivision are to each other and whether the fire would have spread to other homes if winds were stronger and firefighters hadn't responded so quickly.
---
FULL STORY »
Ron Taguma sat in a lawn chair in a neighbor's yard yesterday looking across the street at his house, gutted by a fire that also spread to the home next door Friday night.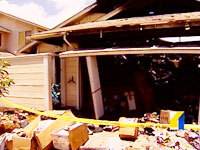 Firefighters continue to investigate what caused the fire but assessed the remains of more than $400 thousand in damages.
Neighbors stopped by to chat and bring food as a cardboard box with some personal belongings sat nearby.
Taguma, 61, didn't want to talk to a reporter about the fire, but neighbors said they were amazed he escaped without a scratch.
Firefighters had trouble entering Taguma's house because his belongings blocked the doorways from the inside, said Fire Department spokesman Capt. Robert Main.
"We ended up going around the house a couple times trying to find a way in," he said. Firefighters eventually found Taguma just inside the front door and carried him out.
It took more than one hour for 50 firefighters from 11 companies to bring the 9 p.m. fire at 91-984 Waimomona Place under control, but not before it also destroyed the house next door.
A 68-year-old woman, who only gave her name as Vivian, didn't know her home was on fire until Vatu Halafihi, 54, barged in through her front door.
Halafihi, who was visiting his cousin down the street, said Vivian looked surprised to see him.
"I think she panicked at that time," he said.
After going back out to spray water on the house, Halafihi noticed Vivian wasn't outside.
Vivian said she was getting her three dogs out of the house. Halafihi went back inside and helped pull her out.
"I think he's a hero," said Sonia Sato, Vivian's daughter. "My mom's neighbors are wonderful. ... They help her whenever she needs help."
Vivian and her dogs, who weren't injured, will be staying with her daughter in Kailua. Vivian's grandson and granddaughter, who were also living at the house, have also found places to stay, Sato said.
"She's handling it pretty good," Sato said, adding that Taguma said he would buy Vivian another car to replace the one destroyed in the fire.
Neighbors said Taguma would be staying with a friend.
A fire investigator was unable to determine the cause of the fire, which started in the garage area, Main said. The damage to both homes and contents was estimated at $840,000.
Main said the fire had the potential to spread to other homes if winds had been stronger.
He declined to say if the houses were built too close to each other.
"It's what's in our building code," he said.
Neighbors expressed anxiety yesterday about the houses in the neighborhood being so close.
James Kamaunu, who lives next door to the second house that caught fire, said a fire official told him it was a miracle that there was no breeze the night before.
"Everybody's worried," he said. "Everybody had fear in their expressions."