Cops hunt for driver in death of pedestrian
Police are looking for a hit-and-run driver who fled the scene of a fatal pedestrian accident in Iwilei last night.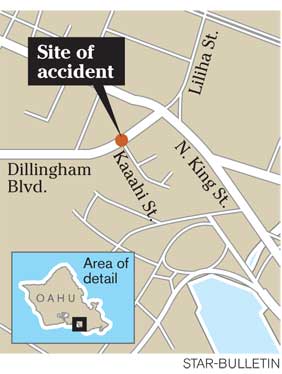 The victim, a 79-year-old man, was crossing Dillingham Boulevard in the mauka direction near Kaaahi Street about 9 p.m., police said.
He was not in a crosswalk, police said.
The suspect, described only as male, was Ewa-bound on Dillingham in a new light-colored sport utility vehicle.
Police said the victim was hit by the SUV and knocked into another Ewa-bound lane, where he was run over by a 2001 Dodge Neon and dragged about 30 feet. A 28-year-old woman driving the Neon stopped. The driver of the SUV stopped momentarily, then fled, police said.
The victim suffered severe head and torso injuries, and was taken to the Queen's Medical Center, where he died at 12:51 a.m. today.
The SUV had paper license plates. "Obviously it's a new vehicle," said Sgt. John Agno of the Honolulu Police Department's vehicular homicide section. "We need the public's help in locating this vehicle."
The victim's name was not released. He is the fifth pedestrian killed on Oahu this year compared with 12 at this time last year.