Preschool in Aiea to close
St. Timothy's Preschool in Aiea will indefinitely shut down at month's end as administrators search for funds to tackle overdue repairs, officials said yesterday.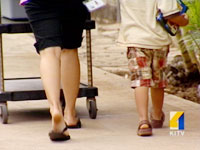 About a hundred families are scrambling to find a daycare after St.Timothy announced its closure at a school meeting.
The 30-year-old school, which opened in 1977 and enrolled about 110 students ages 2 to 4, is laying off about 18 staff and administrators, said Kathy Takemura, administrator at St. Timothy's Episcopal Church.
The board of directors of St. Timothy's Children Center and the Vestry of St. Timothy's Episcopal Church announced at a meeting Tuesday night the school would close June 30, according to a news release issued yesterday.
"It would be in the best interest of the school if all the repairs were made at one time, subject to the availability of enough funding," Dr. Edmund Whang, board president, said in a statement.
The Rev. Gregory Johnson said refunds will be given to parents of 79 children who had paid tuition to enroll at the school in the next school year. He could not immediately say how much the school charges.
The preschool "was having some management" problems, and its accreditation expired in February, said Kathy Murphy, executive director of the Hawaii Association for the Education of Young Children. Murphy said she was saddened to hear about the demise of what was once regarded "a very high-quality program," with some teachers holding master's degrees.
Murphy said she has been calling preschools to check whether they have space to accommodate St. Timothy's students and teachers. Officials at St. Timothy's also were assisting parents in finding alternative schools.
"It's tough," Johnson said. "If I were in their shoes, I wouldn't be a happy camper."
Johnson, who became St. Timothy's priest in charge in February, said parents were the first to raise concerns about the condition of the school's two classroom buildings.