---
STYLE FILE
Glam tote
For girly girls who never liked summer camp, here's one you'll appreciate. Neiman Marcus is presenting Camp Gorgeous through June 14, allowing women to stock up on summer beauty essentials.
Purchases of $85 in Cosmetics or Fragrances will score you a camouflage print tote filled with a full-size Lancome lipstick and deluxe-size samples from Natura Bisse, Frederic Fekkai, Kiehl's, Dior and Hermes. The rule: One per customer while supplies last.
Kisa Kosmo fall line debut
Kisa Kosmos's latest Fall 2008 Line of corsets and tops will debut at 808 Real Estate on First Friday, tomorrow at 1145 Bethel St.
The event, from 6 to 8 p.m., will also feature DJs Nocturna, Modboy and Angst spinning '80s dance, goth and dark wave music.
For more information, visit www.kisakosmos.com.
Free tees at Kahala Mall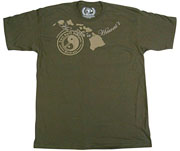 Kahala Mall takes some of the sting out of shopping by offering a free T&C Surf Designs T-shirt during mall hours Saturday, with same-day Kahala Mall receipts totaling $100 or more. Bring your receipts to the kiosk fronting Riches Kahala and choose from available designs, while supplies last. The promotion makes it easy to shop for yourself and pick up a Father's Day gift for Dad at the same time.
There will also be the CrossFit Challenge Finals and a Karate Kids demonstration taking place from 11 a.m. to 3 p.m. Saturday to demonstrate ways for the whole family can have fun and get fit together.
Call 732-7736.
Soleil celebrates 1 year
Soleil will be celebrating its first anniversary from 11 a.m. to 5 p.m. Saturday, showcasing the work of new local designer Shannon Hiramoto, who'll be featuring pieces from her line machinemachine.
Guests will be able to enjoy cocktails and cupcakes from Cupcake Couture, and there will be free giveaways and prizes throughout the day, as well as 20 to 50 percent off the boutique's entire inventory.
Soleil is at 909 Kapahulu Ave. Call 735-5360.
Tokidoki artist returns
Tokidoki artist Simone Legno returns to Hawaii, this time to Nordstrom, Ala Moana Center, to introduce a line of tokidoki for Onitsuka Tiger shoes.
Meet him at a signing taking place 1 to 4 p.m. Saturday in BP Shoes, Level 2.
You could even win a pair of signed "snow heaven" boots created specifically for the Sundance Film Festival 2008.
White Party at Skyline
Bust out your summer whites when Skyline celebrates its fourth anniversary with "The White Party," from 9 p.m. Saturday, for 21 and older. Guests must wear all white to get in. (If you must be different, color accessories and shoes are OK.)
The $25 standard cover allows for free massages, free self-parking and free pupus until 10 p.m. with DJ Jay E in the house.
Call 723-1449 or visit www.flashandmattyboypresent.com.
Catchy new jingle could mean $1,500
Does the creative potential of phone service ring your rhyming chimes?
If so, come up with a jingle and sing it into your phone - you could win $1,500 for shopping at Best Buy and five years of free telephone service.
Oceanic Time Warner Cable is seeking a 60-second jingle for its new "My Island Home Phone" service.
The "Give Us a Jingle" contest runs through June 30, open to adult residents of Hawaii. Entries may be submitted by phone (628-2611) or uploaded on an MP3 file to oceanic.com (click on "What's New").
The top 20 entries will be posted online for public voting from July 7 to 18. Six finalists will sing their jingles at the Road Runner Music Hall on Aug. 1 for final judging.
First prize is a $1,500 gift card from Best Buy and five years of "My Island Home Phone" service.
Green House hosts EcoExplorer camp
The Green House is conducting a five-week summer day camp, the EcoExplorer Adventure Club, for 5- to 12-year-olds.
Workshops, designed to give students an appreciation of the environment, will cover such themes as solar energy, gardening and recycled art.
Sessions run from 8 a.m. to 1 p.m. Tuesdays to Thursdays, June 17 to July 17, at the Green House, 224 Pakohana St.
Cost is $240 for one week, $450 for two, $620 for three, $760 for four, $870 for five. Registration deadline is tomorrow. Call 524-8427 or e-mail thehawaiigreenhouse@hawaiiantel.net.
Bank collecting gifts for soldiers
American Savings Bank branches will be open tomorrow for "First Saturday," a community service program to benefit troops overseas.
From 10 a.m. to 2 p.m., the various branches will collect donations such as Hawaiian coffee, macadamia nuts, dried fruits or seafood and crack seed.
The snacks will be sent to troops worldwide to mark the Fourth of July.
Schools reunion at Dole Cannery
A multischool reunion will be held Aug. 23 at the Dole Cannery Ballroom, continuing Oct. 4 at the Fremont Hotel in Las Vegas.
Graduates of the class of 1963 from Farrington, Kaimuki, Kalani, McKinley, Mid-Pacific Institute, Punahou, Roosevelt, University, Saint Louis and 'Iolani high schools are invited.
For details on the Oahu event, call 671-7138 or 221-7684; e-mail harlowurabe@aol.com or pyoichi@hawaii.rr.com. For details on the Las Vegas event, contact Heather Matsunaga, P.O. Box 642092, Los Angeles, CA 90064-9998; e-mail hcm.reunion@verizon.net; or visit www.hshawaii.net/classof63.
FIRST FRIDAY
Sale of Akina watercolor to support Fashion Week
The Pohl Gallery on Nuuanu Avenue will offer for sale a rare original watercolor painting by the late island artist and fashion designer Allen Akina.
This multifigured work of art was donated by a private collector, and the sale proceeds are earmarked to support the 2008 Honolulu Fashion Week and FACE fashion show in October.
This will be the third year for the seven-day extravaganza, conceived by 2Couture and Sandy Pohl. Call the gallery at 521-1812 for more information.