Lingle dedicates highway project
KIHEI, Maui » While unraveling a maile lei, Gov. Linda Lingle dedicated an $87 million highway widening project leading to south Maui -- one of the fastest growing regions in the state.
Lingle, speaking to a crowd, said the population of Maui County is projected to grow 49 percent by 2035 to 207,000 residents.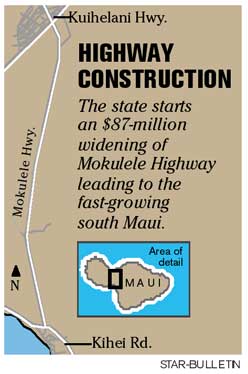 "It's sobering. It's tremendous growth," she said.
"I am convinced you're not going to stop it, but you need to make it work for you."
Lingle said that to be ahead of the growth, the state needs to spend a lot of money on Maui for improvements.
The $87 million Mokulele Highway project, 80 percent funded by the federal government, took about six years to build and included widening the road from two to four lanes and developing new culverts and bridges to cross irrigation ditches.
Lingle said the state has had more than $115 million in recent and planned projects for Kahului Airport, including construction of a new access road from Hana Highway and a loop road in early 2009.
She said Maui is getting the lion's share of the harbor improvements statewide, about $202 million in improvements in the next six years, including the acquisition of property to expand the east end of Kahului Harbor and money for an east harbor breakwater.
Lingle said Kahului Harbor is the third busiest harbor in the state.
"These harbor improvements are long overdue," she said.
State Sen. J. Kalani English (D, East and Upcountry Maui-Molokai-Lanai-Kahoolawe) said he was encouraged by the Lingle administration's commitment to complete the Mokulele Highway project.
But English, chairman of the Senate Transportation and International Affairs Committee, said the state needs to commit itself to finishing other road projects on Maui, including the bypass in Paia and in west Maui.
State Transportation Director Brennon Morioka said environmental impact statements were being developed for the bypasses in Paia and in the Launiupoko-Maalaea area of west Maui.