| | |
| --- | --- |
| | Island Mele |
---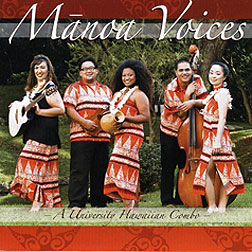 "Manoa Voices"
Manoa Voices
(Hula Records International)
Manoa Voices, winners of the 2007 Ka Himeni Ana singing contest, takes another impressive step forward with their self-titled debut album. The quintet's imaginative vocal arrangements, commitment to acoustic instrumentation and eclectic repertoire make it certain to stand as one of this year's most significant releases.
But first, the backstory: Chadwick Pang, founder and leader of the group, met Justin Ka'upu, Mamina Koga, Rosanna Perch and Sophronia Smith while he was teaching a Hawaiian Ensemble class at the University of Hawaii. Entering Ka Himeni Ana was an opportunity to stretch beyond classroom projects, and the quintet's acoustic renditions of "E Nani E" and "Aloha No" earned them the contest victory. Both songs are among the musical gems found here.
"E Nani E" is a perfect demonstration of what the group can do. It opens with Pang strumming ukulele, followed by the women's three-part harmony. Next come the other instruments, and finally, the men's voices. The song makes it easy to understand Manoa Voices' success.
Among the strengths of the group is its depth of talent. All five members sing lead. Pang is the primary arranger, but Ka'upu, Perch and Smith also contribute in that area. "Te Atairangikaahu," composed and translated by Smith, brings her Maori heritage into the mix and expands the group's musical horizons beyond the genres of Hawaiian and hapa-haole music.
Yet her work takes nothing away from "Ka Ua Loku" and "Manu 'O'o," both beautiful celebrations of the traditional music of Hawaii.
Ka'upu opens "Pua Mae'ole" with a noteworthy solo on acoustic bass -- adding a bit of soul, if you will, to this classic. Smith puts a sweet yet sultry spin on "Beneath the Maori Moon," and Ka'upu brings the focus back to old-time Hawaii as the lead voice on "E Koa'e E."
A 14-page booklet completes this perfect debut album with song lyrics, English translations where appropriate, a brief history of the group and members' commentaries about each of the songs.
---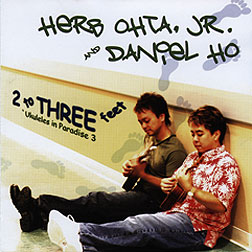 "2 To Three Feet:
'Ukuleles in Paradise 3"
Herb Ohta Jr., and Daniel Ho
(Daniel Ho Creations)
Herb Ohta Jr., and Grammy Award-winning producer Daniel Ho add a third chapter to their productive musical collaboration with this addition to their "'Ukuleles in Paradise" series. Most of the melodies are originals, but the duo shows their skill as arrangers by including three by other composers.
As with their previous projects, Ohta plays a conventional four-string ukulele, while Ho uses a six-string instrument. And, once again, there is no additional instrumentation. None are needed.
Instrumental albums often seem intended for background music or even as ambient noise, but the duo's craftsmanship consistently deserves attentive listening. The interplay between the two musicians, and the tonal interplay between distinctly different instruments, keeps their work interesting through repeat plays.
Their interpretation of "Laupahoehoe Hula," for instance, contains just enough in the way of melodic references to make it an imaginative departure from the standard arrangement.
John Berger
, who has covered the local entertainment scene since 1972, writes reviews of recordings produced by Hawaii artists. See the Star-Bulletin's Today section on Fridays for the latest reviews. Reach John Berger at
jberger@starbulletin.com
.