---
FAST FACTS HAWAII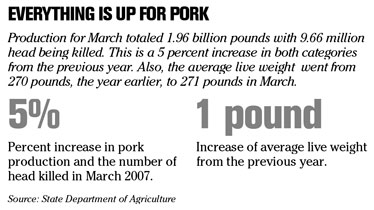 ---
NATION
Mortgage rates below 6 percent
WASHINGTON » Rates on 30-year mortgages dipped below 6 percent this week, falling to their lowest level in five weeks.
Freddie Mac, the mortgage company, reported yesterday that 30-year fixed-rate mortgages averaged 5.98 percent this week. That was down from 6.01 percent last week, and the lowest since they averaged 5.88 percent the week of April 17. A year ago they stood at 6.37 percent.
Rates on 15-year fixed-rate mortgages also fell, dropping to 5.55 percent, down from 5.60 percent last week. However, the five-year adjustable-rate mortgage edged up to 5.61 percent. The rate on one-year ARMs rose to 5.24 percent.
Ford: No profit through 2009
DETROIT »
Ford Motor Co.
is cutting North American production of pickups and SUVs as car buyers eyeing record gas prices turn toward more fuel-efficient models. The automaker says it no longer expects to return to profitability by 2009 and didn't rule out layoffs and plant closures.
Dearborn-based Ford also today cut back its projections for total U.S. light vehicle sales in 2008 to between 14.7 million and 15.1 million vehicles. That's down from 17 million vehicles as recently as 2005. Light vehicle sales exclude heavy trucks.
Ford plans to increase its production of cars and crossovers. Its Focus sedan saw sales jump 29 percent in the first four months of this year, while its Ford Edge crossover was up 38 percent.
American Axle strike ends
HAMTRAMCK, Mich. » Workers from the largest union local at
American Axle and Manufacturing Holdings Inc.
approved a new contract yesterday, ending a nearly three-month-old strike.
American Axle makes axles, drive shafts and stabilizer bars, mainly for General Motors Corp.'s pickup trucks and large sport utility vehicles. GM accounts for about 80 percent of its business.
The strike forced GM to cut production at or temporarily close more than 30 factories, crippling output of pickups and SUVs. It also caused thousands of layoffs at GM and other auto parts suppliers.
The vote by United Auto Workers Local 235 means American Axle workers will return to work, though the date is unknown.
McDonald's fries trans-fat-free
CHICAGO » McDonald's said yesterday its french fries are now trans-fat-free in all its restaurants in the United States and Canada, catching it up with its fast-food rivals in that category.
CEO Jim Skinner made it official at its annual shareholders meeting at McDonald's Corp. headquarters in Oak Brook, Ill.
McDonald's has lagged other restaurant operators in switching over to a zero-trans-fat cooking oil out of worries it would compromise the taste of its trademark fries.
Skinner said McDonald's is on schedule to convert to the new oil by year's end for its remaining baked items, pies and cookies.
New Hires and Promotions
» RIM Architects-Hawaii has hired
Grant Chun
as project designer. His 12 years of experience in Hawaii and the mainland include retail, commercial, civic, luxury residential and specialty projects.
» Mobi PCS has named Alisa Onishi marketing manager. She will oversee strategic marketing initiatives including events, promotions, sponsorships and public relations.
» The Battleship Missouri Memorial has named Ronald S. Chavez as chief engineer and repair officer. He will be responsible for maintenance of the ship's mechanical and electrical systems, and implementing any industrial-level maintenance for the ship's long-term preservation schedule. He is a retired U.S. Navy officer with 28 years of servicer.
» Marathon Group and its operating companies BEI Hawaii and HT&T Hawaii have announced the following appointments:
* Tara Young to senior vice president of corporate development of Marathon Group.
* Greg Sakaguchi to senior vice president and chief operating officer of HT&T Hawaii.
* Terry Johnson to director of human resources for BEI Hawaii.
* Jeanette "J" Isezaki to manager of parts department for HT&T Hawaii.
* Henry "Hanalei" O'Neal to warranty administrator.
» TD Food Group has announced the following promotions:
* Francis Cortez to restaurant general manager of Pizza Hut in Hilo from assistant general manager.
* Michelle Moku to general manager of Pizza Hut in Kilauea.
* Chad Marcello to restaurant general manager of Long John Silver's A&W in Mililani.
» Castle & Cooke Aviation has announced the following new hires:
* Tony Marlow as general manager. His previous jobs include general manager and vice president of flight options for a fixed base operation under ownership of Hawker Beechcraft.
* Amy Kaleikini as customer service manager. Her aviation management experience includes Swissport Hawaii, Air Service Hawaii, Circle Rainbow Aviation and Hawaiian Airlines.
AWARDS/CERTIFICATIONS
» Kapolei Property Development LLC has announced the winners of its 2008 Kapolei Outstanding Achievement (KOA) Awards:
Rich Griffin
, landscape coordinator, Island Pacific Academy, environment:
2007 Kapolei Sunset Festival Committee
, Community Service, organization;
Michael Leskovec
, Makakilo-Kapolei Lions, Community Service, individual;
Margarette Pang
, Dyslexia Tutoring Center of Hawaii Inc., education;
James Matthew Stamm
, North Star Scientific Corporation, business leader; and
Mike Rennebu
, Hale Pono Boys & Girls Club, young leader.
» Outrigger Enterprises Group has honored OHANA Hotels & Resorts vice president Chuck Shishido with the 2007 Chairman's Award, which recognizes a senior Outrigger executive for exceptional contributions to the company. His 35 years with Outrigger include director of operations for OHANA Hotels & Resorts, and working from desk clerk up to general manager at Outrigger Waikiki on the Beach.
» Jiffy Lube International has honored Tom and Jean Ito of Hawaiian Jiffy Inc. with first place in the 2007 Total Vehicles Serviced Category award. They were honored along with other franchisees at the 2008 Jiffy Lube International Convention & Trade Show in Colorado Springs. The annual award is given to the top three franchisees with the highest vehicle count.
» The National Association of Industrial and Office Properties Hawaii chapter has announced the winners of its 2008 Kukulu Hale Awards:
* Outrigger Enterprises Group received the 2008 Developer of the Year Ku Ho'okela for its community contributions and accomplishments in Hawaii's commercial real estate industry.
* Kaneohe Ranch Co. president and chief executive officer H. Mitchell "Mitch" D'Olier received the Holo Pono Award for Lifetime Achievement.
* CB Richard Ellis executive vice president Frances N. Okazaki has been named Commercial Broker of the Year.
* The following projects were honored Awards of Excellence: Honolulu Design Center, new project; The Wedding Ring Shop, new project; The Moana Surfrider, A Westin Resort, renovation; Royal Hawaiian Center, renovation; 40 South School St., renovation; YMCA Leeward Branch, renovation; and Animal Encounter Discover Center at Honolulu Zoo, renovation.
* 40 South School St. and Waipahu Intermediate School Cafeteria were honored with Hawaii's first Green Building awards for their use of sustainable design elements and materials.


---
BUSINESS PULSE