---
FAST FACTS HAWAII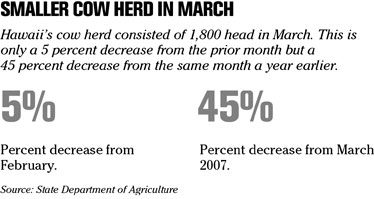 ---
NATION
MLP shareholders cleared to sell
Two prominent technology executives who own a combined 6.3 percent stake in
Maui Land & Pineapple Co.
last year will soon be eligible to sell.
Time Warner split gets OK
NEW YORK »
Time Warner Inc.
said yesterday it would formally split off its cable TV business, giving the media conglomerate a $9.25 billion windfall and allowing it to focus on cable network, entertainment and publishing operations.
The separation of Time Warner Cable Inc. gets Time Warner out of the media distribution business altogether, something investors had been clamoring for. The company announced its decision to split up last month and said yesterday that the boards of the two companies had agreed to financial terms.
The split-off calls for Time Warner Cable paying a total dividend of $10.27 per share, or $10.9 billion to all shareholders, of which parent company Time Warner will receive $9.25 billion.
Microsoft offers search rebates
REDMOND, Wash. » With its share of the Internet search market in steady decline and its pursuit of an alliance with
Yahoo Inc.
in doubt,
Microsoft Corp.
is taking a new approach to jump-starting its search engine: offering rebates to people who use it to find and buy some products.
Microsoft executives said the program, called Live Search cashback, is part of a plan to come up with new approaches to areas of the search business where they see opportunities to make inroads against Google Inc., the market leader.
In most cases, Microsoft will determine the amount of the rebate that shoppers will get. On a Samsung digital camera that costs $90 to $107, rebates range from 2 percent to 5 percent.
WORLD
Court blocks Bell Canada deal
OTTAWA » An appeals court quashed approval for the $51.8 billion leveraged buyout of
Bell Canada
yesterday after siding with angry bondholders in a ruling.
While the unanticipated decision may not be the final ruling on the buyout, the largest leveraged deal in history, it puts its future in legal jeopardy.
A five-judge panel of the Quebec Court of Appeal found that Canada's largest telecommunications company "never attempted to justify the fairness and reasonableness" of the deal.
Because the buyout is structured under Canadian law as a "plan of arrangement" it requires court as well as shareholder approval. The new ruling sets aside court approval that was granted in early March.
Within minutes of the release of the decision yesterday evening, Bell said that it would appeal to the Supreme Court of Canada.
BRIEF CASE
STRIKE ENDING:
Union members at General Motors Corp.'s Fairfax, Kan., assembly plant yesterday approved a new contract, ending a nearly three-week-old strike. About 2,500 members of United Auto Workers Local 31 walked off the job May 5 at the plant, which makes the hot-selling Chevrolet Malibu as well as the Saturn Aura.
---
BUSINESS PULSE