MUSIC
Fulfilling 'Destiny' was a 4-year journey for the Cazimeros
The new CD is viewed as validation of years spent preserving Hawaiian music
Orson Wells became known in the last years of his life for commercials about selling no wine "before its time." Pete Seeger, borrowing from the Book of Ecclesiastes, wrote that "to everything there is a season." Robert Cazimero, considering the Brothers Cazimero's first album in four years, says simply, "It's the right time, but then the other answer would be, 'It's always the right time.'"
"Once we started to get into the groove it just happened, and it got to be fun."
Roland Cazimero
"Destiny," the long-awaited follow-up to 2004's "Some Call It Aloha ... Don't Tell," which was nominated for a Grammy Award, will be in stores tomorrow.
"If I had my way, I would flood Hawaiian music into Hawaii (and) into the radio stations every single day," Robert continued while Brother Roland (a k a "Boze") looked on approvingly.
"I think what's happening now in Hawaii is that you're getting other kinds of 'island-influenced' music, and so it's real easy for our kind of music to be lost."
"Why now, this album?" Roland jumped in. "We've talked about it, and everything just worked out. It's destiny ... and I really do like the album. I'm not patting myself on the back, but pat myself on the back!"
The Brothers introduced several songs from "Destiny" at the Hawaii Theater in March. Now they'll be working full time promoting it.
"I have three (favorite songs) -- at this time," Robert says, responding to the inevitable question. The first is "Paumalu." The next is "'Ikua." The third, it seems, is a tie between "Ka 'Imi Loa" and the opening number, "Ne Ke Anoa Ahiahi."
"It's very different, very cool, very us. Very what we're centered on as far as our talent is concerned, and so it's very difficult for me to choose just one (favorite)," he explains.
The four-year break, Robert says, gave them time to "get excited again" about recording and promoting a new release.
Recording it was an experience Roland recalls as making difficult decisions and surprising discoveries.
"It was a little difficult at first because we weren't sure where we were going to go, but once we started to get into the groove it just happened, and it got to be fun."
Taking a long-range view, Robert sees "Destiny" as validation of their 30 years of work to preserve and perpetuate Hawaiian music.
"It's what we've always tried to do, but I think the maturity of who we are and what we have become has helped validate and cement even more the history and the legacy and the destiny of what Roland and I have been doing."
"Destiny"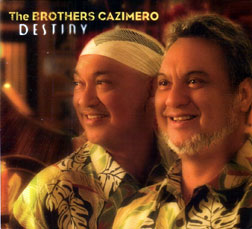 Brothers Cazimero
(Mountain Apple Company)
Welcome back, Bobby! Welcome back, Boze! "Destiny" epitomizes everything Hawaii has loved about the Brothers Cazimero for so long. Their instantly recognizable voices and imaginative arrangements are the two common denominators in this glorious celebration of modern Hawaiian music. The first few bars of the opening number, "No Ke Ano Ahiahi," are all it takes to set the mood. Yes, this one was well worth the wait.
"Destiny" would be a perfect choice to win the Grammy Award for Hawaiian Music Album in 2009.
Tradition is honored as compositions by Mekia Kealaka'i and David Nape, and Hawaiian classics by composers now unknown, are reworked Cazimero-style. Contemporary songs are represented with equal success, in pieces written or co-written by Snowbird Bento, Frank Kawaikapuokalani Hewett, Manu Boyd, Keli'i Tau'a and Robert Cazimero.
The vocal interplay on "Ka 'Imi Loa" makes it an instant favorite -- solo voices here, harmonizing there, and a gradual shift into falsetto for the finale. But then comes Robert as the lead on "Hanohano Hawai'i"/"Na Moku 'Eha," sister Kanoe Cazimero joining in on a seductive new song titled "'Ikua," and then Robert's "Paumalu," and it is evident that each song is destined to be memorable.
The Brothers' up-tempo rendition of "Waimanalo Blues" (originally "Nanakuli Blues") resonates as well. It's a switch from the doleful arrangement popularized by Country Comfort in the 1970s, but the emotions come through with crystal clarity.
The two show their lighter side with "Pi'i Mai Ka Nalu," a song first popularized by Robi Kahakalau and Bu La'ia, and again when they add two English folk songs to a Hawaiian song to create a medley about rain.
A beautifully illustrated booklet completes this perfect "come back" album with lyrics and English translations.