Killer crash shatters night
Police suspect the driver at fault was drunk and speeding
STORY SUMMARY »
|
READ THE FULL STORY
A makeshift memorial and mangled vehicles stood yesterday as testaments to a horrific accident that killed a 3-year-old boy and a 25-year-old man Thursday night in Nanakuli.
The dead were identified as toddler Koa-Paka Miles and Waianae resident Sanford Valdez, who police say had been drinking and speeding when his out-of-control pickup slammed into the car in which Koa-Paka and his family were traveling.
Residents along Farrington Highway raced out of their homes after hearing the all-too-familiar sound of metal smashing into metal, only to witness the disturbing scene of a father cradling his dying boy.
GENE PARK
---
---
FULL STORY »
Two Nanakuli neighbors heard a loud boom Thursday night, and discovered a grisly, bloody scene in their driveways.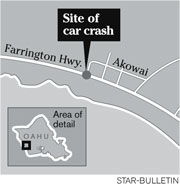 Fred Calleon stepped out and found a child booster seat, covering two tiny legs. He lifted the seat, thinking and hoping it was a doll, but instead he found 3-year-old Koa-Paka Miles. The child's father, he said, was hysterical, screaming for his son.
Koa-Paka was taken to the Queen's Medical Center, where he died.
Tanya Tafu heard a woman screaming for help inside an overturned pickup truck on top of Tafu's car, and a man who lay dead just outside her driveway.
Police believe that man, 25-year-old Waianae resident Sanford Valdez, had been drinking and speeding, which caused him to crash his pickup, killing himself and Koa-Paka, who was in another car.
The crash happened about 10:20 p.m. on Farrington Highway near Akowai Road in Nanakuli.
Valdez was driving toward Honolulu when he lost control of the truck and hit the makai guardrail, police said.
The truck veered back onto the road, crossed the center line and collided with a Volkswagen Jetta, which was in the mauka-most Waianae-bound lane. The impact pushed the car off the highway, where it hit Calleon's parked car.
Koa-Paka, who was in the back seat of the Jetta, was thrown from the car, police said. The boy had been sitting in a booster seat but it was unclear whether he was strapped in, according to police.
After colliding with the Jetta, the truck hit a tree and a hollow-tile wall, then flipped over and landed upside down on Tafu's car parked at 87-1468 Farrington Highway.
Valdez was not wearing a seat belt and also was ejected, landing on the right shoulder of the road, police said. He was pronounced dead at the scene.
A 28-year-old Waipahu woman was trapped in the truck and had to be pried out by fire-rescue personnel, police said. She suffered minor injuries and was in good condition, police said.
There were four other people in the Jetta. The driver was a 27-year-old man, identified by Calleon as Koa-Paka's father, and the front passenger was a 37-year-old woman.
In the back seat with Koa-Paka was a 1-year-old girl who was in a child-restraint seat, and a 21-year-old woman. The survivors were hospitalized in serious condition at the Queen's Medical Center. They live in Waianae, police said.
The city Medical Examiner's Office is not yet releasing the results of a toxicology test done on Valdez. Koa-Paka and Valdez are the 14th and 15th traffic fatalities on Oahu this year, compared with 32 at the same time last year.
Valdez's family, who visited the site to leave memorials, declined comment. A memorial of balloons and flowers was also left for Koa-Paka.
Tafu, 32, and her family spent most of yesterday cleaning up the mess, water-blasting and sweeping glass off the driveway.
She shook her head, looking at her 1996 Cadillac that Valdez's pickup landed on. She said she fell asleep about 2 a.m. "But it was kind of hard falling asleep, knowing that someone died right in front of your home," she said.
Calleon said he was also disturbed when he saw Koa-Paka. The tot's father grabbed the child and cradled him in his arms until emergency officials arrived.
Thursday's crash was about the seventh or eighth time that one of Calleon's parked vehicles was hit, he said.
"This is the worst accident since I lived here," said the 61-year-old Calleon, who has lived at the home for more than 30 years. "And there are a lot of accidents here."