Car crashes into home
Hawaii Kai: Resident and driver both safe
A 19-year-old man was injured yesterday when a car crashed through a bedroom of his Hawaii Kai home.
Just after 10 a.m., a vehicle crashed into the house at 724 Ainapo St. in Hahaione Valley.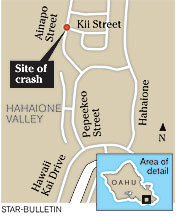 Al Garcia, the father of Evan Garcia, was upstairs when he heard a loud crash, and at first thought someone had hit his car. When he saw the dust, he knew it was far more serious.
"I ran downstairs in my son's room, and he was pinned between the bed," Al Garcia said. "I was hysterical."
Al Garcia said the 90-year-old woman who was driving the car apparently thought the gas pedal was the brake.
Honolulu Fire Department Capt. Terry Seelig said the man did not receive serious injuries, but was hospitalized for treatment. The car was towed out, but Seelig said the home did not appear to be in any danger of structural collapse.
Both the driver and Evan Garcia were outside the home when rescue officials arrived.
Garcia, who was emotional after the incident, said he was just happy that his son was not seriously injured. Evan Garcia appeared responsive outside the home.
"He told me he was all right," Al Garcia said. "He's all bruised up, but I'm pretty sure he's gonna be OK. Thank God somebody was watching over us."
Freelance journalist Barry Markowitz contributed to this report.
---
VIDEO
CORRECTION
Thursday, May 15, 2008
The ages of the injury victim and the driver of the car were intially incorrect on this page. Evan Garcia is 19, and the driver of the car is 90.