Deadly Kauai crash leaves 2 daughters without parents
The couple died Sunday during a Mother's Day caravan of Porsches
STORY SUMMARY »
MOLOAA, Kauai » Friends and family members remembered Paul Goodrich yesterday as an avid traveler and collector of antiques who loved to surf and lived life to the fullest.
His wife, Laurie-Ann, was a doting and fiercely protective mother and an enthusiastic, eclectic cook, they recalled.
The couple died Sunday during a Mother's Day caravan of Porsches along windy, scenic Koolau Road. Their car left the road and slid down a slope, hitting a tree. Both were pronounced dead at the scene.
The Goodriches leave behind two girls, 9 and 12. The family has set up a trust fund to help them as members of the Kauai community pitch in to help.
---
FULL STORY »
MOLOAA, Kauai » A Mother's Day drive in a sports car turned tragic Sunday for the mother and father of two preteen girls.
Paul and Laurie-Ann Goodrich, decades-long residents of Kauai's North Shore, were killed when he lost control of their 1994 Porsche convertible around a hairpin turn along Koolau Road near Moloaa Ranch, slid down a slope and hit a tree. Both Goodrich, 50, and his wife, 46, the passenger in the two-seater, were pronounced dead at the scene.
They leave behind two girls, McKenzie, 12, and Rylie, 9. The girls will be staying with their maternal aunt and brother-in-law, Mary and Lawrence Hinkel, family friends said yesterday.
The Goodriches, longtime employees of the Princeville Hotel, had been married for about 15 years.
The family was known for their long family trips cross-country in Paul's many unique antiques. The family owned three Volkswagen campers "strategically placed across the country," Laurie's brother-in-law, Larry Hinkel, said yesterday.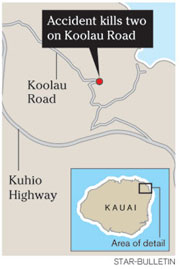 They often took months as they traveled across the country to visit relatives, home-schooling their daughters along the way. Their Kilauea home, which also serves as a bed-and-breakfast, is filled with one-of-a-kind Americana and Hawaiiana antiques as well.
The Porsche, friends said, was a new item that Paul Goodrich sent home after the family's last trip to the mainland months ago.
Laurie Goodrich "was always there to allow Paul his indulgences," Hinkel said. "She was very generous of herself and asked little in return."
A doting and fiercely protective mother, Laurie Goodrich also loved to cook, although it was sometimes hard to find someone to eat her creative culinary delights.
"She wasn't really appreciated because the girls inherited Paul's limited palette," Hinkel added. "She tried things on anybody who would taste it."
Born near Boston, Laurie met Paul while vacationing to Kauai in the mid-1980s, and moved to the Garden Isle shortly thereafter, Paul Goodrich's nephew Charles Goodrich said yesterday.
She wore her Boston accent "like a badge," Hinkel said, "and never stifled it" despite the years in Hawaii.
"Laurie had a great laugh that was really infectious," he added. "She had a great smile and was always ready to share it."
Her husband was a doting and loving family man even before he met her.
His older children, Todd, Kalinda and Tawny, were frequent visitors to their home, despite living on the mainland, friends said.
Paul Goodrich was always very positive, upbeat and "happy every day of his life," said Simon Potts, an old friend.
"He showed me how to live, really," Potts added.
A waiter at the Princeville Hotel for decades, Goodrich liked to keep his days free to surf and enjoy Kauai to the fullest, Potts said. He also drove the school bus to Hanalei School for years.
"He used to say, 'I've been semiretired all my life,'" Charles Goodrich said.
He loved shopping for antiques on eBay, knee-boarding and, in the last few years, gardening and improving his home, his nephew added.
"Anything he's done, he's made money at," he said.
"Their relationship is as solid as a rock," said Potts. "Always has been, always will be."
North Shore residents who knew the couple have inundated the family with food and good wishes, Hinkel said, and many more have pledged support for the girls.
"We're just overflowing here with offers of help and generosity," he added.
To help coordinate the efforts, the family has set up a trust fund to help Rylie and McKenzie. To donate, go to www.paulandlauriekauai.com.