| | |
| --- | --- |
| | Newswatch |
---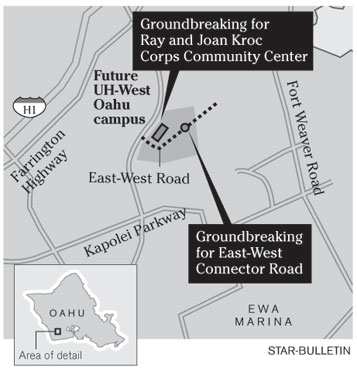 West Oahu construction begins
State and Salvation Army officials broke ground yesterday on two construction projects that will change the map of West Oahu.
The state Department of Hawaiian Home Lands groundbreaking launches work on the $17.3 million East-West Connector Road, a link in opening access to undeveloped land between Ewa Villages and Kapolei.
The road will provide traffic relief by eventually connecting Fort Weaver Road to the future University of Hawaii-West Oahu campus. It will be the gateway to an area where more than $1 billion in construction projects is planned, including 2,400 new affordable homes, according to a department release.
The Salvation Army blessed ground at the site of the planned $103 million Ray and Joan Kroc Corps Community Center, which will be at the intersection of the East-West Road and the planned North-South Road, which will provide a new access route from Ewa area to the H-1 freeway. Both projects are slated for completion by the end of 2009.
Lingle to honor state's innovators
Gov. Linda Lingle will start giving out monthly awards to people, organizations and government agencies that are creating or adopting innovative ideas or services.
The Governor's Innovation Award, intended to acknowledge and encourage innovation in the state's economy, will be presented in three categories: Individuals, organization and government.
Nominations will be accepted online and reviewed by a committee of industry, education and government representatives statewide who will make recommendations to Lingle.
The first awards are expected to be announced Thursday. More information is available at www.hawaii.gov.
'Dog' preps TV show comeback
Did you think the tail would stay between the legs?
"Dog the Bounty Hunter" will return to A&E in the near future, signifying some semblance of redemption for the humiliated bounty hunter/television star. Duane "Dog" Chapman and Beth Chapman will announce specific details with A&E Network executives at a closed media event today. Niger Innis of the Congress of Racial Equality will join them.
A&E Network suspended production of "Dog the Bounty Hunter" on Halloween last year following the release of a tape documenting Chapman erupting in anger at his son, Tucker, during a private conversation about Tucker's girlfriend, who is black. In a span of 86 seconds, Chapman used the N-word six times as he explained his fear that she was trying to record him uttering such racial slurs.
He demanded that his son break up with her or lose his job on the television show. The National Enquirer posted the clip on its Web site after purchasing the secret recording from Tucker Chapman.
At the time, the Chapmans were filming the fifth season of the series. In a subsequent statement and television interviews, Chapman promised to make amends and asked his fans to forgive him: "I am ashamed of myself, and I pledge to do whatever I can to repair this damage I have caused."
2 vie for Kauai college chancellor
PUHI, Kauai » The University of Hawaii has announced the two final candidates for Kauai Community College chancellor.
Chancellor Peggy Cha will retire this fall after serving in various positions throughout the University of Hawaii system for more than 30 years, the last 10 as chancellor of the Kauai campus.
The two candidates are Helen Cox, associate vice president of instruction at Salt Lake Community College in Utah, and John Madden, dean of instruction at Pima Community College in Tucson, Ariz.
Cox, who has been in her current position since 2003, has a doctorate in English-American studies from the University of Utah, where she also earned her master's degree. She has served in higher education for more than 25 years, primarily at Salt Lake College, starting as a faculty member.
Madden, in his current position since 2000, obtained his doctorate in educational philosophy from the University of Albany and a master's degree in education from Western Michigan University. He has served in higher education for more than 20 years.
| | |
| --- | --- |
| | Police, Fire, Courts |
---
NEIGHBOR ISLANDS
Hiker missing since Saturday is rescued
A Hawaii County Fire Department helicopter crew rescued a missing hiker yesterday from Olaa Forest Reserve.
Wayne Nabarro, 50, of Hilo used his cell phone to contact the Fire Department and direct a helicopter to his location in the dense forest area south of Stainbeck Highway off Ihope Road. He was not injured, according to a Fire Department release.
It was the second day of the search.
Police said Nabarro set out to pick maile in the forest Saturday afternoon. Another hiker who was with him emerged Sunday morning and reported him missing.
Inquest to be held for opihi picker
Big Island police have initiated a coroner's inquest in the death of an opihi picker found Saturday in the Honokaa area.
The victim has been identified as 37-year-old David M. Davis of Kailua-Kona.
Fire Department personnel found his body at the bottom of a 300-foot cliff near Kukaiau Landing near the 33-mile marker of the Hawaii Belt Road.
Police found no evidence of foul play. An autopsy is scheduled for today.
The Criminal Investigations Section is continuing the investigation.
WINDWARD OAHU
Teenage escapee caught in car trunk
Police arrested a teenage escapee who was found hiding in the trunk of a car early yesterday.
The 17-year-old boy had escaped March 11 from the Marimed Foundation's Kailana Residential Treatment Program for at-risk teens in Kaneohe.
A friend of the boy, a 21-year-old woman, had been looking for him. She noticed he was hiding in the trunk of a car driven by a 19-year-old man. The woman then drove the car to the Kaneohe police station at 3 a.m. The boy was arrested for investigation of second-degree escape.
HONOLULU
Roommate sets curtains on fire
Police arrested a 28-year-old man after he allegedly set fire to curtains in his Moiliili apartment.
Police said that at about 8:20 last night, a 29-year-old man woke up and discovered his Varsity Place apartment full of smoke. Police said the suspect, who is a roommate, allegedly admitted to setting the curtains on fire.
Police were called, but the fire was already extinguished when they arrived so firefighters were not notified.
Officers found the suspect allegedly in possession of drugs, police said.
The man was arrested on suspicion of third-degree arson and promoting dangerous drugs.