ABANDONED:
OUTLOOK FOR MONK SEAL IS GRIM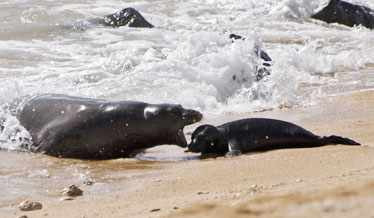 Pup critical but stable
Marine experts say a 5-day-old endangered monk seal abandoned by his mother shortly after birth last week on a secluded Kauai beach has about a 50 percent chance of surviving.
The pup is in critical but stable condition and is missing essential nutrients since marine experts believe he did not nurse from his mother, which significantly weakened his immune system. Veterinarians and monk seal experts remain hopeful that the young pup will survive, but acknowledge that its outlook appears grim.
"The first bit of milk from the mother is really important," said Charles Littnan, head of the National Oceanic and Atmospheric Administration's Monk Seal Research Program. "This is a critical time because it doesn't have a strong immune system."
Hawaiian monk seals are considered an endangered species. The population is continuing to dwindle dangerously, with about 80 to 100 living in the main Hawaiian islands and about 1,100 in the Northwestern Hawaiian Islands.
A team of NOAA Fisheries specialists rescued the pup Friday from a beach on Kauai after a resident reported the mother acting aggressively toward the newborn hours after giving birth.
When NOAA specialists arrived on the beach on Friday, they saw the pup clinging onto a big rock, apparently thinking it was his mother, and attempting to suckle milk from it. The pup called out, but its mother was not anywhere on the beach.
"It was emotional," said David Schofield, NOAA's marine mammal response coordinator. "To see that pup nursing from the rock was heartbreaking."
Its mother returned later, but after hearings its pup's calls for her, she turned and followed an adult male seal instead. In their last effort to reunite the two, NOAA specialists placed the pup near his mother. They nudged noses for a bit, raising the hope of the specialists, but then the mother began biting her pup's head aggressively.
HANGING ON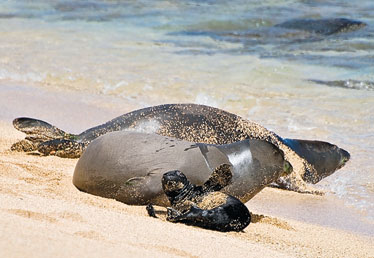 "It's safe to say, if that pup had stayed in that area, it would have perished," Schofield said.
This is a unique case for NOAA specialists, who had never cared for a monk seal this young. In the past they took in pups about 2 weeks old.
"This is something pretty foreign to us," Littnan said. "It's going to be a tragedy if we lose this pup. But this situation is going to help us better respond and treat animals in the future, primarily in learning what pups this young are able to eat."
The mother had abandoned another pup about a year ago, Schofield said. NOAA specialists did not want to intervene, but by the time they decided that pup would not survive, it was emaciated and severely dehydrated, Schofield said. They put that pup to sleep.
Littnan called this "unnatural behavior" since mothers usually nurse for six weeks, adding that experts never dealt with a mother that had a record of abandoning newborns.
"We know this is a younger mom," said Schofield, who could not explain the cause for the mother's behavior.
The pup, which weighs about 32 1/2 pounds and is about 3 1/2 to 4 feet long, is staying at NOAA's Kewalo Research Facility near Ward Warehouse. Veterinarians let him swim and sleep in addition to feeding him diluted milk.