---
FAST FACTS HAWAII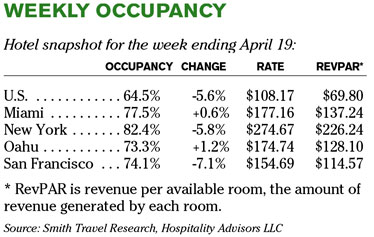 ---
HAWAII
Industrial vacancy rate climbs
Honolulu's 2008 first-quarter industrial vacancy rate climbed to 3.14 percent -- the highest level in five years, according to the latest industrial market report released today by
Colliers Monroe Friedlander Inc.
The market saw a loss in occupancy totaling more than 66,000 square feet during the quarter, the report said.
Nonetheless, industrial rents have jumped 92 percent since 2001 and have recorded gains over the past six years. The average asking rent jumped to $1.33 per square foot per month from 69 cents in 2001.
Despite skyrocketing rents, the report said that multi-tenant warehouse developments for lease aren't feasible in the current credit environment and Hawaii market, which has seen a dramatic rise in construction costs and land prices.
Central Pacific keeps dividend
Central Pacific Financial Corp.
declared a second-quarter dividend yesterday of 25 cents a share that will be payable June 13 to shareholders of record as of May 16.
The parent of Central Pacific Bank, which will report its earnings Wednesday, has kept its dividend at the same level for the last four quarters. The payout equates to an annualized yield of 5.4 percent.
A&B increases dividend
Alexander & Baldwin Inc.
boosted its quarterly dividend by 8.6 percent.
The 2.5-cent increase to 31.5 cents a share is payable June 5 to shareholders as of May 8, the company said yesterday. A&B raised its payout for the third straight year.
NATION
Motorola loss widens
CHICAGO » Struggling cell phone maker
Motorola Inc.
disappointed investors yesterday when it posted a wider first-quarter loss and failed to meet revenue forecasts.
The company, in the midst of a massive reorganization that includes splitting itself into two publicly traded companies, said it lost $194 million, or 9 cents per share, for the quarter that ended March 31.
That's 7 percent more than a year earlier when it lost $181 million, or 8 cents per share. Excluding one-time charges related to massive job cuts, the company would have lost 5 cents per share.
Sales fell about 21 percent to $7.45 billion, down from $9.43 billion a year ago.
Mortgage rates move up
WASHINGTON » Rates on 30-year mortgages topped 6 percent for the first time in six weeks as financial markets grew more worried about rising inflation pressures.
Freddie Mac, the mortgage company, reported yesterday that 30-year fixed-rate mortgages averaged 6.03 percent this week after three straight weeks at 5.88 percent.
Rates on 30-year mortgages were last above 6 percent the week of March 16 when they averaged 6.13 percent. A year ago, rates on 30-year mortgages stood at 6.16 percent.
Rates on 15-year, fixed-rate mortgages rose this week to 5.62 percent, up from 5.40 percent last week. Five-year adjustable-rate mortgages rose to 5.68 percent, up from 5.48 percent last week. One-year adjustables rose to 5.28 percent compared with 5.10 percent last week.
WORLD
Samsung Electronics profit jumps
SEOUL »
Samsung Electronics
said today that net profit jumped 37 percent in the first quarter amid strong demand for mobile phones in emerging markets.
Samsung earned 2.19 trillion won ($2.2 billion) in the three months ended March 31, compared with 1.6 trillion won in the same period last year, the company said in a statement to South Korea's financial regulator. Sales rose 19 percent to 17.11 trillion won ($17.19 billion), the company said.
The company cited 33 percent growth in handset sales year-over-year. Emerging markets, including China and India "continued to be the main driver of growth," he said.
Samsung said in a separate statement that mobile phone sales "achieved similar volume" to the fourth quarter's record sales of 46.3 million handsets, despite contraction of about 13 percent in the global market.
New Hires/Promotions
» Hawaiiana Management Co. has announced the following appointments:
Jeff Dickinson to vice president. He has 17 years experience in real estate and property management.
Ed Robinson to vice president of new development. He has served the company since 1999 and has 12 years experience in managing expansive developments.
John Ramsey to director of property management. He has 25 years experience in property management and worked for Hawaiiana Management from 1987 to 1989, returning in 1995. He has also served in the U.S. Navy for 22 years, retiring as a chief warrant officer.
Dennis Chung as management executive. He served as a logistics management specialist for various Department of Defense agencies in a civilian capacity for 23 years.
Sunshine Ruiz as director of Kauai operations. She has 10 years experience in the association management industry.
» The YMCA of Honolulu has announced the following appointments to its management team:
Jean Riederer to vice president and executive director for Nuuanu YMCA. She has worked for nine different YMCA associations across the country for 25 years.
Kadi Tarlecky to executive director for Central YMCA. She has 17 years with the organization.
Noa Hussey to program executive for Kaimuki-Waialae YMCA. He has 18 years with the organization.
Troy Tomita to associate director for Central YMCA from aquatic director for Nuuanu YMCA. He has instructed programs in aquatics, youth sports, and preschool and teen programs in Japan and Hawaii since 1973.
Sheridan Parsons to director of philanthropy at the Metropolitan Office. He has 21 years with the organization.
Board Elections
» Hawaii State Federal Credit Union has elected its board of directors and supervisory committee for 2008: Board directors are
Beverly Ing Lee
, chairwoman;
Tit Mun Chun
, vice chairman;
David Shimabukuro
, treasurer;
Amy Motooka
, secretary;
Louise Akamine
;
Peter Leong
; and
James Takushi
. Supervisory committee is
Warren Motosue
, chairman;
Alvin Ching
, secretary;
Gerald Dang
;
Wayne Horie
; and
Richard Yamamoto
.
Awards / Certifications
» Realtor
Alan J. Craig
of Coldwell Banker Island Properties is a recipient of the International President's Circle Award. The award is among the highest accolades presented to the top three percent of sales associates, recognizing an associate for exemplifying the Coldwell Banker commitment to professional integrity, marketing expertise and exceeding client expectations. He has worked in the real estate industry since 1988 and is an active member of the Realtors Association of Maui, Hawaii Association of Realtors, National Association of Realtors and the Multiple Listings Service.
---
BUSINESS PULSE