City officials get raise
A panel approves 5 percent to 9 percent pay hikes for top posts
The city Salary Commission approved pay increases of 5 percent to 9 percent yesterday for top city officials.
The decision was made after a brief public hearing that drew only eight city department officials and no public testimony. The pay increases will go into effect July 1 unless the City Council rejects them.
Pay hikes of 6.5 percent were even better than Mayor Mufi Hannemann and City Council members expected. The commission went beyond the 6 percent recommended last month by an ad hoc committee of three commissioners.
The mayor will receive $136,427 a year under the pay schedule. By comparison, Gov. Linda Lingle received a 2 percent increase this year, taking her annual salary to $116,524.
City Council members will receive $52,446, and Chairwoman Barbara Marshall will be paid $58,596.
City Prosecutor Peter Carlisle will receive $129,312, a 9 percent hike.
Police Chief Boisse Correa and Fire Chief Kenneth Silva will be paid $136,236, an 8 percent increase for each.
"If we didn't make the amendment, the fire chief and police chief would be making more than the mayor," said Guy Tajiri, Salary Commission chairman.
Commission member David Akina proposed the added increase, saying, "I look at the mayor as being the CEO of the city. It keeps him in parity with other positions ... in line with his role."
Commission Lisa Kim agreed, saying the additional increase "is really not that much when you look at the base."
Tajiri said commissioners did not believe that Cabinet members should make more than the mayor. The City Charter says the commission should consider "preservation of a sensible relationship with salaries of other city employees" in its decision.
City Corporation Counsel Carrie Okinaga, the only person to testify at yesterday's hearing, described her concern that a relationship be maintained in pay scales for lawyers in the two city legal departments. She said pay in the Office of Corporation Counsel has been "hitched" to deputy prosecutors' salaries.
The corporation counsel's salary traditionally is about 95 percent of the city prosecuting attorney's but will shrink to 91 percent under the new salary schedule, Okinaga said. The top deputy in each department is also paid in a percentage scale that will shrink to 92 percent from 96 percent because of the higher raise given the prosecutor.
The commission approved a 5 percent pay increase for department heads, including Okinaga.
Commissioners also set a 5 percent hike in the pay range for lawyers in the offices of the Corporation Counsel and Prosecuting Attorney. The range will be $43,248 to $120,072, determined by the heads of the departments on the basis of lawyers' experience and performance.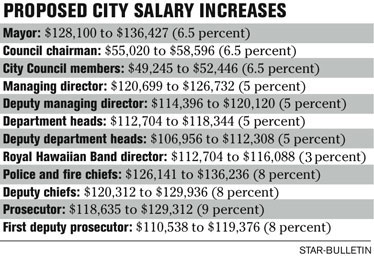 CORRECTION
Wednesday, April 23, 2008
The city Salary Commission approved a 3 percent salary increase for the Royal Hawaiian Band director. This story originally said it was a 5 percent increase.