---
FAST FACTS HAWAII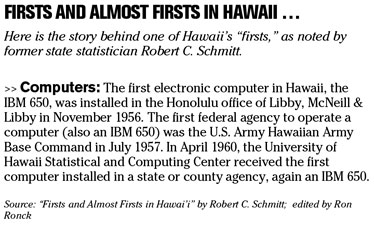 ---
NATION
2007 was safe year for airlines
WASHINGTON » No one died during 2007 in accidents among larger scheduled U.S. airlines and smaller commuter aircraft, and deaths in private plane accidents dropped to 491, their lowest total in more than 40 years, the government reported this past week.
But on-demand aircraft -- charters, air taxis and tours, and medical flights with a patient aboard -- saw accident deaths jump from 16 in 2006 to 43 in 2007, according to preliminary annual figures from the National Transportation Safety Board.
"The U.S. aviation industry has produced an admirable safety record in recent years," said NTSB Chairman Mark V. Rosenker. "However, we must not become complacent. We must continue to take the lessons learned from our investigations and use them to create even safer skies for all aircraft operators and their passengers."
The government figures showed that scheduled U.S. airlines flew 18.7 million hours in 2007 with 24 accidents, but no deaths. There was one fatality among nonscheduled U.S. carriers: A mechanic was fatally injured while working on a Sky King Inc. Boeing 737 in Tunica, Miss., on July 10, 2007.
Commuter airlines had 3 accidents in 302,000 hours of flight, but no fatalities.
On-demand carriers 43 deaths in 62 accidents over 3.7 million flight hours.
General aviation saw its accident fatalities plummet from 703 in 2006 to 491 in 2007. But during 23.8 million hours of private flights in 2007 the number of accidents rose to 1,631, from 1,518 in 2006.
Foreign registered aircraft accounted for 11 accidents in the U.S. in 2007 with three deaths in a single accident. Unregistered aircraft had 14 accidents which claimed 7 lives. More airline stories. » C4
Average wedding cost is $30,000
The average cost of a wedding today is $30,000, and lavish engagement parties are increasingly popular, according to Katherine Jellison, author of "It's Our Day: America's Love Affair with the White Wedding, 1945-2005" published last month.
Elaborate weddings are a recent phenomenon, Jellison said. It wasn't until after World War II that Americans had enough disposable income to marry in such a formal fashion.
American consumers are now pinching their pockets and struggling amid rising food costs, gas prices and a worrisome economy, but the $50 billion industry based on decadence continues to boom.
"There is a message out there that this is how it ought to be," said Jellison. "While there are some that look at the lavish wedding as socially irresponsible, in general most see it as a sign of social status. Everyone wants to prove that they are more than just middle class."
Still, there is a growing movement toward fiscally and environmentally friendly weddings and indie brides.
"People are starting to hold giveback weddings, where guests are urged to donate to a charity instead of buying them silverware," said Jellison, who is an associate history professor at Ohio University. "Some are steering away from big budget weddings, seeing them as all about consumer excess."
What to ask before taking buyout
As corporate buyouts surge during economic uncertainty, what should eligible employees consider before accepting?
With large portions of payrolls approaching retirement age, companies are seeing buyouts as a way to fine-tune their work force without shutting down a department or handing out pink slips, according to job placement consultancy Challenger, Gray & Christmas.
Employees in the automotive, airline, technology and retail industries are seeing the most buyouts, the Chicago-based company said.
While receiving a large sum to leave a job may seem like hitting the jackpot, there are a few questions to consider:
» Will involuntary layoffs follow the buyout offer? Decide how confident you are that you will survive these job cuts.
» What other job prospects are there in your region and in your occupation? Leaving your job may require training in another field.
» What will change for those who stay with the company? There may be other cost-saving measures that will affect employees who stay.
Maybe you need a mental break
Feel like you're going crazy? Maybe you need a day off.
More than 80 percent of employees admit to taking "mental health" days from work to recover or recharge, according to a poll conducted by ComPsych Corp., which provides corporate counseling services. Almost a third said family and relationship issues were the cause.
When asked what would likely cause them to take a breather, 20 percent said it would be stress related to work and 12 percent said they would take time off due to lack of physical energy.
Boredom and lack of motivation accounted for 5 percent of those who would take an unplanned day.
The online survey polled 1,036 employees of ComPsych's company clients.
---
BUSINESS PULSE