Rail shift upsets chancellor
UH-West Oahu was hoping to get a stop nearby but failed to meet a city deadline
The city's decision to move a transit station farther away from the University of Hawaii West Oahu campus might affect ridership, the campus chancellor said yesterday.
After months of discussion and several route proposals, the city eliminated a transit stop next to the West Oahu campus.
COUNCIL VOTE
Starting at 10 a.m. next Wednesday, the City Council will hold its final vote on the technology for the planned $3.7 billion elevated mass transit system from Kapolei to Ala Moana.

The latest bill says the technology will be rail -- Mayor Mufi Hannemann's pick -- but several Council members have been strongly pushing for a bus system while others disagree with the entire project.
Instead, the city has decided on a stop about six blocks -- an estimated 10- to 15-minute walk -- away from the main campus in a D.R. Horton-Schuler community development.
Gene Awakuni, UH-West Oahu chancellor, wanted the transit stop to be about a five-minute walk away, making it more convenient for students and creating an incentive to use mass transit.
"The concept was to make it an easy walk to the campus," Awakuni said yesterday. "It's not the best route for us in terms of ridership. We don't think it's optimal but that's what the city is saying they can come up with and that's what we have to live with."
Awakuni said he hasn't given up on getting a stop closer to campus.
But in a news conference last week, Hannemann said the alignment needed to be finalized to be included in a draft environmental impact statement, which is due in the summer.
Hannemann said the new stop is close enough to the campus, comparing it to a walk from Honolulu Hale to Fort Street Mall downtown.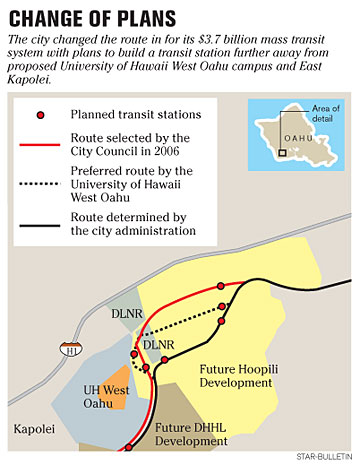 ---
Awakuni said students will likely need to cross several busy streets and the campus might provide a shuttle system.
"It seemed to make sense to connect UH-Manoa as close as we could to West Oahu so we could truly provide a system, a route that would enable the students and professors to get from campus to campus," Hannemann said.
But he said UH-West Oahu didn't meet a deadline last year to get permission from the state Department of Land and Natural Resources to allow the stop on state land next to the campus.
"The problem here is the state DLNR. We made it very clear ... that if we were to cut through the DLNR property, we wanted to get the official position of the state so that we wouldn't get held up," Hannemann said.
Hannemann said the city has an aggressive timetable -- with a goal to break ground in Kapolei in late 2009 -- and didn't want any problems with DLNR to arise later.
Awakuni said he has been talking with DLNR on a land agreement but could not get a final answer by the city's deadline.
"We still intend to pursue it, but we can't get it in the time frame that they gave us," Awakuni said. "Whether or not it's too late, we'll live with it."
The city had given UH-West Oahu another option to have a transit stop on its property that would avoid going through state land but would cut through the campus itself.
Awakuni dismissed the idea, saying the elevated route would have come as close as 45 feet away from the library and that the noise would be disruptive.