Fumes shut volcanoes park
2,000 evacuated as haze coats east Hawaii
STORY SUMMARY »
|
READ THE FULL STORY
The National Park Service closed Hawaii Volcanoes National Park yesterday because of concern about sulfur dioxide fumes from the volcano, causing the evacuation of about 2,000 people.
Big Island Civil Defense officials predicted there would be no cause for evacuation of neighboring residential areas overnight.
The National Weather Service predicted a return of tradewinds today, bringing relief to Hilo and Hamakua. The sky over Oahu will remain hazy today, but a health department spokeswoman said the vog shouldn't pose a health threat to most people.
FULL STORY »
HILO » Hawaii Volcanoes National Park closed yesterday due to the threat of sulfur dioxide fumes, triggering evacuation of the Volcano House hotel and the Kilauea Military Camp inside the park.
About 2,000 people including military personnel were evacuated from the park, said park Superintendent Cindy Orlando. The Army said 186 guests from the military camp were moved into Hilo hotels. No count was available from the Volcano House, but the facility has 42 rooms, Orlando said.
Hilo and the Hamakua Coast were blanketed in haze by midday as south winds carried the fumes into populated areas in eastern and northern areas of the Big Island. The volcanic smog, or vog, is a combination of fumes, dust and moisture in the air.
Relief is on the way today in the form of returning tradewinds, said the National Weather Service. "By midmorning we expect easterly winds to scour out the haze from Hilo and Hamakua," said forecaster Tom Birchard. Easterly winds bring haze from the volcano to South Point where "it eddys to the west and brings the typical haze to Kona," where vog is a year-round condition.
Tradewinds are expected to continue through the weekend, Birchard said.
The park obtained measurements of sulfur dioxide as high as 9.1 parts per million, Orlando said. That's well above the 2 parts per million that triggers a declaration of Hawaii County's highest alert level, a Code Purple.
In a late afternoon radio message, Mayor Harry Kim said, "Some residential areas in the Volcano area did have spikes of very high levels of sulfur dioxide during the day. Fortunately, due to wind conditions, high levels were very brief."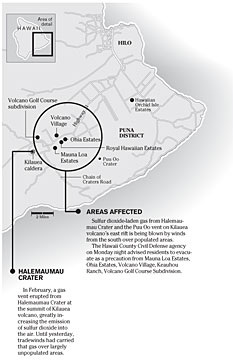 CLICK FOR LARGER PICTURE
---
The Hawaii Civil Defense Agency advised residents downwind of the volcano to close windows as a precaution against the noxious gas, which can affect breathing and irritate eyes, nose and throat. In a late afternoon advisory, the agency said the weather forecast indicated it was not necessary to evacuate. Kim predicted there would be no evacuations during the night in residential areas.
The sulfur fumes come from Puu Oo on the east rift zone and Halemaumau Crater at the summit, where emissions increased dramatically in March after a gas vent explosion.
Until yesterday, tradewinds carried the fumes over mostly unpopulated areas.
Emissions are recorded daily at state Department of Health monitors installed last year in Hilo, Mountain View, Pahala, Pahoa and Kona. Health Department officials were at the county Emergency Operations Center yesterday.
Oahu and Kauai will continue to experience hazy weather today and tomorrow, said Birchard.
For most people outside the park, yesterday was a day of pretty good weather.
"It was bright and sunny and beautiful," said Barry Stokes at the Volcano Golf Course subdivision. By noon, however, the gas plume was overhead, blocking out the sun. "It was pretty grim," he said.
But the gas didn't reach the ground at his house.
Another Golf Course resident, Christina Heliker, said there was "just an hour or two when it touched down." It was a bit worse than the normal vog, she said.
In Volcano village, resident Eva Lee said the sky was partially blue, and fumes had passed along the slope of Mauna Loa toward Mauna Kea.
Kulani Prison Warden Beryl Iramina said the plume passed uphill from the prison, causing no problems, but a plan was in place to evacuate the 143 inmates if necessary.
Beyond that, the plumes drifted toward the Army's Pohakuloa Training Area between Mauna Kea and Mauna Loa, but no evacuation was necessary, an Army spokesman said.
In Hilo during early morning rush hour, a dirty gray blanket of vog covered the city. In his radio message yesterday, Kim suggested Hilo could see a repeat of that this morning.
As the day progressed, it became clear that worries about Halemaumau triggered Monday night's Civil Defense warning of a possible Code Purple, but the biggest culprit was another vent, Puu Oo crater.
And Code Purple conditions never developed in most places. "Although uncomfortable for many, sulfur dioxide levels did not exceed the yellow range," Kim said. Yellow is considered to be a "light concentration."
SULFUR PROTECTION
The state Department of Health recommends these precautions for those affected by sulfur dioxide when levels are not too high. At high levels, or for sensitive people, the best response might be to leave the area.

» Stay indoors, with an air conditioner on if possible.

» Do not smoke or stay around secondhand smoke.

» Limit physical activity.

» Drink liquids; warm fluids are especially helpful.

» Check your medicine and keep it handy.

» Call your doctor as soon as a breathing problem starts.