Recycling program grows
Curbside service will expand, and schools and public parks will get new receptacles
STORY SUMMARY »
|
READ THE FULL STORY
Curbside recycling will be extended to 40,000 more Oahu homes by the end of the year as the city expands the pilot program started last year in Hawaii Kai and Mililani.
Mayor Mufi Hannemann said yesterday that residents in East Honolulu, Kailua and the North Shore will begin using recycling bins in November. By May 2010, curbside pickup of glass, metal and plastic containers will extend islandwide, he said.
The city will put community recycling bins in public parks and provide new bins at 120 school sites under environmental initiatives announced to mark Earth Month.
Hannemann said the city will buy the HPOWER garbage-to-energy facility at Campbell Industrial Park for $43.8 million. The plant, which burns 600,000 tons of trash each year, is operated by Covanta Energy.
SCHEDULE FOR EXPANSION
The city is expanding curbside recycling over the next two years to the following neighborhoods:

» November: Kuliouou to Manoa, Kapahulu, Kailua, Lanikai and Mokuleia to Sunset
» May 2009: Waipio Gentry to Halawa, Wahiawa, Whitmore, Waipio Estates, Laulani Valley, Kaneohe and Waimanalo
» November 2009: Foster Village to Makiki and Kahuku to Kahaluu
» May 2010: Makakilo to Waikele, Waipahu, Ewa Beach to West Loch, and Honokai Hale to Makua
---
FULL STORY »
Curbside recycling will be extended to 12 communities islandwide by May 2010 in a plan outlined yesterday by Mayor Mufi Hannemann.
Residents in East Honolulu, Kailua and the North Shore will be the next to participate in the plan to redirect reusable waste products from island landfills. The recycling program that began with 20,000 households in Hawaii Kai and Mililani last year will be extended to 40,000 more homes in November.
Curbside recycling was mandated by Oahu voters in a charter amendment approved in November 2006. Earlier that year the City Council gave the mayor two years to come up with a full recycling plan.
The mayor announced other environmental initiatives:
» The city will buy the HPOWER waste-to-energy plant for $43.8 million, a decision that requires City Council approval. The plant burns more than 600,000 tons of trash each year, producing electricity to power 45,000 homes. It is owned by Bank of America and Ford Credit and operated by Covanta Energy.
» Public recycling receptacles will be placed in city facilities and the largest parks this year and eventually in more than 70 parks islandwide.
The plan to move forward was applauded and also criticized for not going full speed ahead.
"It's taking far too long. We should have had it years ago," said Jeff Mikulina, director of the Sierra Club's Hawaii chapter. "People get it. It works in every other city across the country. Eighty percent of the voters said yes to curbside recycling."
Richard Poirier, chairman of the Mililani/Waipio/Melemanu Neighborhood Board, said he has not heard any major complaints about curbside recycling in Mililani implemented in October. "Some people don't like having the extra container because they don't have space to store them. Some people just won't recycle. It takes a conscious effort by each household.
"The county has spent a lot of time working out problems. It's an ongoing educational process," Poirier said. "They really thought this out." Among the details are the green, blue and gray calendar stickers distributed by the city for residents to keep track of what day the recycle bin goes out and what day trash or green waste is picked up.
Michelle Matson of the Diamond Head/Kapahulu/St. Louis Heights Neighborhood Board said, "I think people are becoming more environmentally conscious. I recycle everything I can. I've been doing it for 30 years." She takes paper and plastic, glass and aluminum containers to receptacles at schools, the only recycling option available to residents in recent years.
"Honolulu is 30 years behind the mainland. It's so long overdue, it's embarrassing," Matson said.
Hannemann aroused the ire of environmentalists in 2005 when he announced he would scrap the curbside recycling plan of previous Mayor Jeremy Harris, a sluggish effort that ended with a 2003 pilot project in Mililani.
The mayor did not go into details of the curbside pickup plan, which will be laid out in community meetings starting next week. In the Hawaii Kai and Mililani pilot plans, the recycling pickup is weekly, replacing the second trash pickup formerly offered. Hannemann previously proposed that a fee be charged for a second trash pickup each week.
The mayor said that purchase of the HPOWER plant will allow the city to expand its capabilities by adding a third boiler. It would allow the city to fully control the flow of its solid waste, which will include shipping 100,000 tons of waste annually to a mainland facility.
Mikulina said, "We are still moving backwards. We are producing more trash per household than we ever have."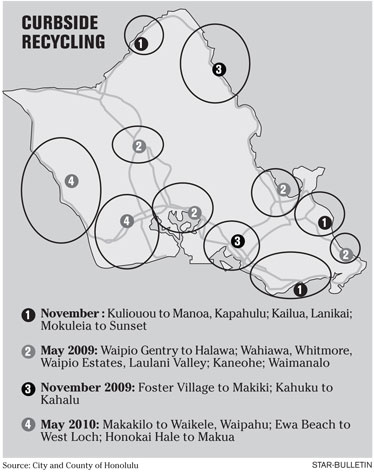 HEARINGS ON RECYCLING AND RAIL
Community meetings will be held to discuss expansion of curbside recycling and the city's rail transit project:

» Wednesday: 6:30 p.m. at the Pali Golf Course clubhouse, 45-050 Kamehameha Highway.
» April 14: 6:30 p.m. at the Kalani High School cafeteria, 4680 Kalanianaole Highway.
» April 28: 6:30 p.m. at Haleiwa Elementary School, 66-505 Haleiwa Road.