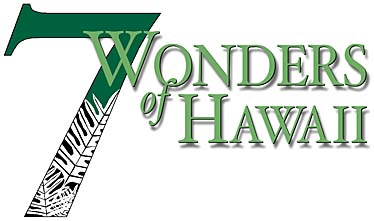 THE SEVENTH WONDER:
WAIMEA CANYON
Enchanting vistas make Kauai's spectacular gorge second to none
KOKEE, Kauai » Waimea Canyon, with its thousand-foot vertical cliffs, waterfalls and breathtaking vistas, has been dubbed "the Grand Canyon of the Pacific."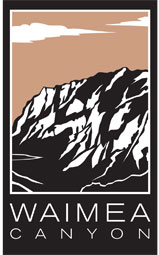 But many a tourist has taken the winding 10-mile trip to the Waimea Canyon Lookout and has said the canyon in Arizona should be renamed the "Waimea Canyon of North America."
Unlike its more famous cousin, the Waimea Canyon's vertical spires contain plants and trees of all shapes and sizes, giving it a more lush and lively air.
"The Grand Canyon is still," said Linda Gray, a recent visitor from England. "This is breathing."
Waimea Canyon is 10 miles long, a mile wide and 3,600 feet deep, with a completely different climate at the bottom than at the top. And at the top, at least for most folks, is Ron Gilbert, owner of the concession stand at the lookout. Gilbert, who takes the 10-mile trip from Waimea every day, says he's got his own little slice of paradise.
"It's an enchanted place," he said recently. "What makes it so special ... is the aura up here."
Sitting in the clouds in inland Kauai, Gilbert says the weather changes so drastically that the canyon experience is different for everyone. "I've seen people walk up the steps (to the lookout), and it's totally cloudy, they can't see anything. Then, the next minute, another group walks up the steps and it's clear."
Hula groups have come in pouring rain and started chanting, and the skies have cleared, he added. Those days, when low-lying clouds come and go, keeping the temperature down and the weather changing, are his favorites.
For Larry Matheney, from Ventura, Calif., the rain in the clouds definitely give Waimea Canyon an edge over that one in Arizona. "It has such a richness to it," Matheney said. "I feel like I'm looking out on God's creation."
Matheney, who had been to the canyon before, said he brought four generations of his family to experience it recently.
"It was gorgeous."
Still, visiting just the lookout without at least taking a look at neighboring Kokee State Park is like going to the beach without taking a dip in the ocean.
Kokee, which runs from the top of Waimea Canyon State Park up to 5,000 feet, offers a variety of wilderness treats, from hiking and birding to hunting, camping and fishing.
The area has plant and bird species that literally cannot be found anywhere else on earth, and hiking trails lead to views of the canyon from the opposite side, the secluded Na Pali coast and even Kauai's North Shore.
» To visit: Take Route 550 in Waimea or Route 552 in Kekaha. Route 550 is more scenic, but most residents bringing friends to the canyon for the first time opt for Route 552. It is a much more spectacular sight to get to the lookout without peeking beforehand. Kokee Lodge in Kokee State Park has a restaurant, cabins for rent and a museum, open 10 a.m. to 4 p.m. daily. Call 335-9975 or visit www.kokee.org.