For ATA customers, deja vu is a bad trip
The shutdown of a second airline that served Hawaii left hundreds more travelers stranded yesterday and their faith in the airline industry shaken.
LEFT BEHIND
The sudden shutdown of ATA Airlines has left 9,600 passengers stranded in Hawaii:
4,182 on Oahu
3,810 on Maui
1,062 on the Big Island
569 on Kauai
Source: ATA Airlines

ATA Airlines, which operated 13 round-trip flights on peak days between Hawaii and the West Coast, abruptly announced Wednesday night it was filing for Chapter 11 bankruptcy and immediately shutting down all operations.
Natural products broker Sunny Crowley of Makaha was to meet with Whole Foods Market representatives in California this morning. She found out about ATA Airlines' bankruptcy and subsequent shutdown on the shuttle bus to the terminal.
She then spent three hours yesterday morning on her cell phone and a pay phone, apologizing to her would-be business associates and arranging a new flight to California.
"I called them and left very long and animated messages explaining my situation," Crowley said. "It hurt me and it hurt my reputation, but I think they'll understand."
The closure came just three days after Aloha Airlines ended its passenger flights. Indianapolis-based ATA, which emerged from a previous bankruptcy in February 2006, said that a primary reason was the unexpected cancellation of a key contract by FedEx Corp. for ATA's military charter service.
"Unfortunately, the cancellation of a critical agreement for our military charter business undermined ATA's plan to address the current conditions facing all scheduled service airlines, including the tremendous spike in the price of jet fuel in recent months," said Doug Yakola, chief operating officer of ATA. "As a result, it became impossible for ATA to continue operating."
Crowley said she feels for airlines being hit with high fuel costs. She said she feels the federal government spent too much on homeland security and not enough on relieving airlines' of skyrocketing fuel prices.
"In the meantime our companies are going down," she said. "It's very, very sad."
This is the second time this week Kelly DeLima has had to change flights for family members because of an airline shutdown.
His wife was supposed to fly into Honolulu from San Diego on an Aloha Airlines flight Tuesday, but had to change to United Airlines after Aloha shut down passenger operations Monday night.
DeLima was expecting his 20-year-old son to fly in from Oakland, Calif., on ATA Saturday, but is now trying to make other arrangements.
"It's a double whammy this week for us," DeLima said. "I'm kinda scared now to buy tickets from airlines. Who's gonna shut down? Scary times."
In Honolulu, state transportation officials stayed at the empty ATA terminal, directing confused travelers to other airlines and answering questions.
Only several dozen showed up yesterday because hotels had notified their customers about the closure, said state transportation spokesman Scott Ishikawa. "We wanted to cut down the confusion at the airport," he said.
Judy and Tom Waldera were surprised to see no one at the ATA counter. They were scheduled to fly ATA on the way back to Idaho Thursday.
They spent yesterday morning "window shopping" for different ticket prices. They found one for $300, but they would have to cut their vacation short by a day. Other tickets went upward of $700 each.
"We're lucky because we have a week," Judy Waldera said. "There are people back at the hotel who are just screwed."
The Associated Press contributed to this report.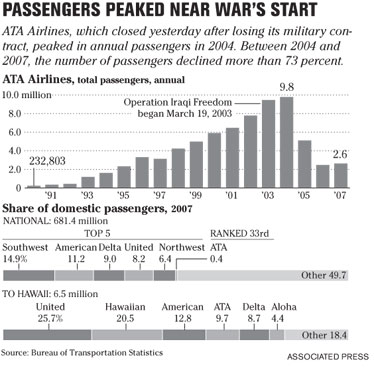 FREQUENTLY ASKED QUESTIONS
What should I do if I only used the first part of my ATA ticket and now need to complete my trip?
You should try to make arrangements on other airlines. ATA has asked other airlines serving its routes to assist ATA travelers. However, other U.S. scheduled airlines are not obligated to honor ATA tickets.

Will other airlines honor unused ATA tickets?
ATA has asked the following airlines serving Hawaii to assist ATA travelers: American Airlines, (800) 433-7300, www.aa.com; Continental Airlines, (800) 523-3273, www.continental.com; Delta Airlines, (800) 221-1212, www.delta.com; Hawaiian Airlines, (800) 367-5320, www.hawaiianairlines.com; Northwest Airlines, (800) 225-2525, www.nwa.com; United Airlines, (800) 864-8331, www.united.com; USAirways, (800) 428-4322, www.usairways.com; and Alaska Airlines (800) 252-7522, www.alaskaairlines.com.

Whom can customers contact if they have more questions?
Customers may send an e-mail to customer@ata.com. With the question, please provide contact information, including name, address, dates of travel, itinerary and ticket numbers.

Source: ATA.com