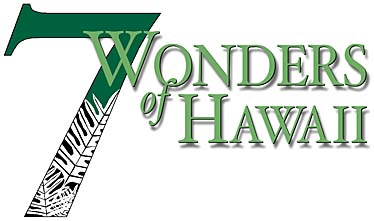 THE SIXTH WONDER:
THE NA PALI COAST
Towering cliffs and the crashing sea create northern Kauai's natural fortress
Wonders won't stay wonderful unless they're preserved and cared for.
That's one reason the rugged -- "rugged" is the word most often attached -- Na Pali Coast of northern Kauai remains difficult to access. The only ways in are by boat, by helicopter or by humping in your own backpack over twisty trails. No freeways, no roads, no trails, no souvenir stands.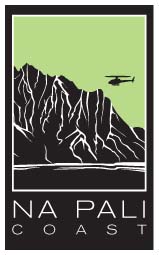 Actually, roads were attempted at one time, but the Na Pali is one of the most rapidly eroding shorelines in the world. It's crumbling. But as it erodes, the landscape creates fantastic, vaulted valleys and snaking, hidden beaches where the sea hungrily licks at the thousand-foot cliffs.
Na Pali -- Hawaiian for "the cliffs," so saying "the Na Pali cliffs" is doubly redundant -- are so spectacular that Mary J. Blige shot her "Sukiyaki"-melody music video "Everything" there.
It's so isolated and wild that that Koolau the Leper was able to hide from the provisional Hawaiian government for the rest of his days in Kalalau, which writer Jack London described as "a flower-throttled gorge, with beetling cliffs and crags, from which floated the blattings of wild goats. On three sides the grim walls rose, festooned in fantastic draperies of tropic vegetation and pierced by cave entrances."
It's one of the great natural backdrops of the world, and you've seen it in everything from "The Thorn Birds" to "South Pacific" to "Jurassic Park."
Despite the difficulty of gaining access, about 150,000 visitors troop in every year. Some never leave. The 6,175-acre Na Pali Coast State Park, stretching along 12 to 15 miles of Kauai's North Shore, is home to dozens, maybe hundreds, of squatters, ranging from the homeless and possibly crazy to cheerful, back-to-nature hippies.
It might be one of the last refuges of the hippie species, not to mention currently uncataloged plants and animals hidden among the vertical escarpments. About 80 percent of Kauai's native species are endangered.
Ancient Hawaiians also lived there, and it was no easier then to get in and out than it is now. The isolation served as a natural fortress. The Na Pali valleys are chockablock with ancient walled terraces and crumbling temple platforms, evidence of prehistoric habitation. It's estimated that only half of the archaeological sites have been mapped so far.
But ancient Hawaiians likely didn't have a garbage problem. The crush of visitors and squatters leaves piles of refuse today, and the only way to remove it is by helicopter. That's a major expense in a park area that doesn't have full-time employees. The slack is partially taken up by the Na Pali Ohana, a hui of concerned citizens.
» To visit: The primary overland access is the Kalalau Trail, corkscrewing through five lush valleys before hitting a mountainous roadblock at Kalalau Beach. It's an 11-mile hike, and none of it is on the level. Bring your own water and food, and carry your trash out.