2008 STAR-BULLETIN FAB 15
BOYS BASKETBALL TEAM
Best of the best
Punahou's Kameron Steinhoff tops the Star-Bulletin's boys Fab 15 team
STORY SUMMARY »
When Kameron Steinhoff returned to the hardwood after recovering from spleen removal surgery, everyone in the Punahou basketball community was cautious, to say the least.
But Steinhoff regained his strength and agility quickly. He even returned to his defensive habit of taking charges from big -- and bigger -- opponents. His line to coach Dan Hale? "Don't worry, Coach. I don't have a spleen anymore."
Steinhoff's amazing comeback paid off with a state crown for Punahou, and for the 6-4 senior, the Star-Bulletin boys basketball player of the year honor. The voting panel also selected Kamehameha-Hawaii's Nelson Wong as coach of the year.
---
FULL STORY »
KAMERON STEINHOFF, PUNAHOU
PLAYER OF THE YEAR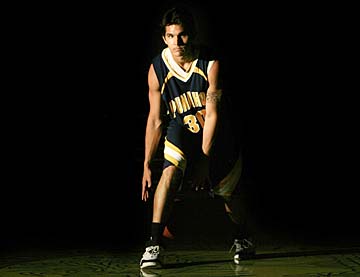 There was a time, just six months ago, when the future Star-Bulletin Boys Basketball All-State player of the year was literally gutted.
On his back in a hospital, IV drips in each arm, a scar over his torso, Kameron Steinhoff never imagined that a ruptured spleen would end his athletic career. But at that fateful time, it was an injury that required removal. The alternative could have been death.
Fortunately, the 6-foot-4 senior expanded his horizons right there in that hospital bed. Basketball wasn't a choice. It was a lifeline.
Steinhoff not only returned to the athletic world; he prospered. His consistent offense -- 18 points and 8 rebounds per game -- was matched by his willingness to take a few charges from driving opponents every night. The effort, as well as his leadership on and off the court, gave coaches and media plenty of reason to vote Steinhoff as the player of the year by a wide margin.
With an NBA-range 3-point shot, an arsenal of low-post moves and a sharp passing eye, Steinhoff was the perfect catalyst in Punahou's state-championship run. The Buffanblu finished 24-4, including a 41-38 win over Kamehameha-Hawaii in the state final.
Moanalua's Stevie Austin was second in the voting. He capped his senior year with an amazing offensive explosion in the postseason. Known for his superb defense -- the 5-9 guard averaged 5 steals per game -- he scored 25 points in the state-tourney opener against Campbell, and then scored 10 fourth-quarter points in an upset of top-seeded Iolani. He had 18 points in a tough semifinal loss to KS-Hawaii before Na Menehune were disqualified from the tourney due to an ineligible player.
The panel voted Kamehameha-Hawaii's Nelson Wong coach of the year over Punahou's Dan Hale by a two-point margin. Wong nurtured the Warriors, who began playing together as seventh-graders, and led them to the state title game.
Moanalua coach Greg Tacon was a solid third in the balloting.
FIRST TEAM (in order of voting)
Player
School
Ht.
Class

Kameron Steinhoff
Punahou
6-4
Sr.

Stevie Austin
Moanalua
5-9
Sr.

Hogan Rosehill
Kamehameha-Hawaii
6-0
Sr.

Cheynne Lishman
Kalaheo
6-1
Sr.

Pablo Warner
Iolani
6-1
Jr.

Jray Galeai
Kahuku
6-0
Jr.

Marcus Holyfield
Mid-Pacific
6-1
Jr.

Taylor Mounts
Iolani
6-5
Sr.

Michael Makinano
Campbell
5-11
Sr.

Darryl Milana
Konawaena
5-10
Sr.

Pii Minns
Kamehameha
6-2
Jr.


Kekoa Carvalho
Konawaena
6-3
Sr.

Manti Te'o
Punahou
6-2
Jr.

Cole Shidaki
Saint Louis
6-1
Jr.

Kealoha Kramer
Kamehameha-Hawaii
6-0
Sr.
Coach of the year: Nelson Wong, Kamehameha-Hawaii