Digging up Trouble
A dispute over the expansion of Makakilo Quarry is pitting Oahu's construction industry against Kapolei homeowners
STORY SUMMARY »
|
READ THE FULL STORY
A proposed expansion of Makakilo Quarry has created a rift in West Oahu between those who say approval is needed to support the state's construction industry and others who say it will hurt property value and quality of life for nearby residents.
Grace Pacific said that it began the permitting process back in 2005, winning approval of the Makakilo/Kapolei Neighborhood Board in 2006. But since then, community opposition has stalled the approval process.
Due to the delays, Grace Pacific says it has exhausted most of its grade A aggregate supply and is now sending out an SOS to the city, the state and fellow members of the construction industry.
The company says that without prompt approval, construction costs and timelines will increase on Oahu.
Meanwhile, more than 200 residents in the surrounding community have opposed the project.
They claim quarry operations have created undue noise, dust and traffic in their growing community and have robbed them of their views.
Some say that not only has the quarry hurt their property values, it's even made some people sick.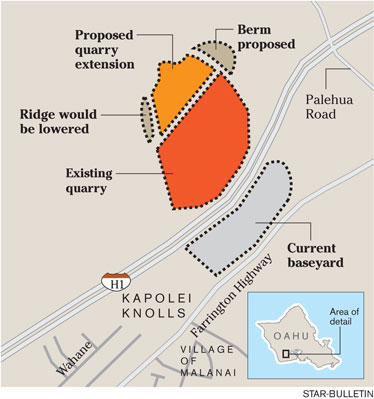 Kapolei rift zone
Grace Pacific says it needs to expand Makakilo Quarry to support Oahu's construction industry. But residents of nearby subdivisions say even the existing quarry operations are hurting property values and their quality of life.
---
FULL STORY »
When Sara and Mark Schnabel bought their home in 2001, they were sold on the mountain views.
Now, they are worried that a proposal from Grace Pacific to expand its quarry another by 34 acres mauka and its operational life another 25 or so years will undercut the value of the property and infringe on their quality of life.
"A year or two ago, we notice that our view had started disappearing," Sara Schnabel said. "There's been a noticeable change in our view, and we fear that it might be headed toward a more dramatic change that will damage our property value."
The Villages of Kapolei Association has opposed the proposed quarry expansion, at a site near Puu Makakilo, because they claim quarry operations have created excessive noise, dust and traffic in their growing community and robbed them of their views. They say it has even made some people sick.
"I have had to sleep in the bathroom because it's the only room in my home that does not have windows," said Lydia Bliss, a 61-year-old resident of Malani Iki Townhomes in the Village of Malanai subdivision, which is near the lower quarry processing plant.
"Sometimes they work 24/7. There is no escape from the dust, the fumes, the noise, and it's ruining my health," said Bliss, who has complained about quarry operations to the company as well as the Department of Health and other emergency services providers.
"I feel like I've descended into hell," she said.
The Schnabels, Bliss and more than 200 other community members have signed a petition opposing the expansion. A second neighborhood association, Kapolei Knolls, also has met with Grace Pacific about the expansion, but has not taken a position. And the operators Kapolei Golf Course have expressed concern that further quarrying will rob them of their view and create rainwater runoff issues.
Grace Pacific and other supporters say that Oahu's supply of high-quality aggregate rock will soon run out without approval to extend the life of the quarry, which they say provides 70 percent of the island's supply of Grade A aggregate.
Such a shortage, they say, would severely impact Oahu's construction industry. Importing aggregate would lengthen the time that it takes to deliver projects and unduly increase costs. It's also less environmentally sound, they said.
"You would think it was more environmentally sensitive to not have a quarry; however it's less sustainable to import it and truck and ship it," said Lance Wilhelm, senior vice president and manger of the Hawaii region for Kiewit Construction.
A hearing on the quarry expansion had been planned for last month, but an impasse between quarry opponents and supporters, as well as discrepancies between the original permit and current operating conditions, have stalled the process.
"There are technical difficulties with the application, it's not as clean as we would like it to be," said Raymond Young of the Honolulu Department of Planning and Permitting. "We're not ready to hear the application."
The DPP has been taking public comments on the application since November 2007, but all parties have agreed to extend past the 90-day deadline until all outstanding issues have been covered, Young said.
Among the issues in dispute are the current size of the quarry and the relative lack of revegetation. A 1970s resolution by the Honolulu City Council originally approved a 72-acre quarry and stipulated that no more than 18 acres of the quarry would be active at any one time. The quarry, which is now 94 acres, has exceeded both of those original thresholds -- yet this is the first time that Grace Pacific has come in for an extension of its special use permit.
"There are a lot of things that (original quarry operators) Pacific Concrete said in their application that we don't do today," said Bob Creps, a senior vice president at Grace Pacific. "Laws and best practices have changed."
Ken Dorner, who serves on the Board of Directors for the Villages of Kapolei, said that Grace Pacific is in flagrant disregard of the city's intent to mitigate the potential for visual impact, dust and noise.
In today's environment, it's unusual for quarries not to do reclamation as they go along, said Christopher M. Hopkins, senior vice president for the
Saint Consulting Group
, an international land-use political consulting firm that has worked on projects in 44 states and several countries.
Grace Pacific, however, has said that they have interpreted their current permit to allow for revegetation after they have exhausted their quarry operation. Their new plan will begin active mitigation of the quarry, three to five acres at a time, within the first five years, Creps said.
Most residents of the neighborhoods in Makakilo have indicated their opposition to the quarry, said Dr. Kioni Dudley, acting chairman of the Makakilo/Kapolei Neighborhood Board.
"I don't think that it belongs in the middle of the city," Dudley said.
While it made good sense to put a quarry in Makakilo in the 1970s -- when the region was surrounded by sugar cane -- the dust, traffic and noise that it generates could impede the region's push for second city status, said Mark Schnabel.
In addition, Schnabel and others have questioned the fact that state planners aren't requiring Grace Pacific to perform an environmental impact statement (EIS) for the expansion.
Hopkins said most of the time EISs are required in such cases, but added that it depends on the state and the size of the expansion.
However, James Campbell Co., arguably the architect of Kapolei's second city concept, has supported Grace Pacific's application. So has the Makakilo/Kapolei Neighborhood Board, which approved Grace Pacific's plan as presented back in 2006. Rep. Sharon Har (D-Makakilo-Royal Kunia-Kapolei) has also sanctioned the quarry request.
"We recognize the important role that the Makakilo Quarry plays in serving the needs of our community for aggregate," said Bert Hatton, executive vice president of Hawaii Land Management for James Campbell Co. "We understand that there have been some concerns raised by the community, and we hope that all of the stakeholders can reach a resolution to the situation."
After talks with the city, Grace Pacific has offered to spend an estimated $29 million to move its lower processing facility into the current quarry pit, where it would be less likely to be seen by residents. The company also has proposed lowering the ridge on the southwest side of the area by about 50 feet and building a berm on the northeast edge of the area to block views of the quarry.
Dudley said those moves have not changed his mind about the quarry expansion. Dudley cast the one dissenting vote when Grace Pacific came before the Makakilo/Kapolei Neighborhood Board, which approved the request 6-1.
The berm will be in the wrong location to protect Kapolei Knolls and the Villages of Kapolei from the quarry dust, noise and odor, said John Riggins, a Realtor who lives in the area.
Grace Pacific has said that it has had negative results from five dust monitors, but Riggins said north winds carrying red dust from the quarry have stained his home and car and caused damage to windowpanes.
"Last year, I got cited by my neighborhood and had to repaint my house even though I had just painted it three years prior," Riggins said.
Furthermore, Riggins is worried about the impact of property values -- mountain views usually fetch a $15,000 to $50,000 premium -- if the quarry remains.
Dudley said that he doesn't support the expansion unless the DPP writes conditions into the proposal that do more to mitigate the views and unless Grace Pacific formulates a workable exit plan
"I don't want them to just leave us with a big hole," Dudley said.
Hopkins said that most quarries across the country are coming up with creative exit plans ranging from golf courses, to gardens, lakes and parks.
Other than to plant a few self-sustaining plants and trees, Grace Pacific has not committed to an exit plan, and many residents in the community fear that they will be left with a landfill when the company leaves.
"The land will revert back to Campbell," Creps said. "It will be up to them."