HMSA seeks 12.8 percent rate increase
More than 11,000 small businesses are facing an average 12.8 percent spike in health insurance premiums if the state approves the latest rate increase filed by the Hawaii Medical Service Association.
Citing soaring medical costs in 2007, the state's largest health insurer is proposing rate hikes would affect 144,000 members and Hawaii businesses with fewer than 200 workers beginning on July 1.
"In recent years, we have fallen short of that mark as cost trends have outpaced increases in member dues," said Steve Van Ribbink, HMSA's chief financial officer.
Of the 144,000 members affected, about 88,750 members in HMSA's most popular Preferred Provider Plan are facing a 12.8 percent increase, while about 4,400 members in its CompMed plan could see a 12.7 percent rate hike. HMSA is seeking a 14.3 percent increase for another 51,250 members in its Health Plan Hawaii, a health maintenance organization.
HMSA said 94.4 percent of member dues last year went to pay hospitals, physicians and other medical providers and sorely inadequate reimbursements from government providers has shifted the burden on the health plan to pay more for services, resulting in higher rates for consumers.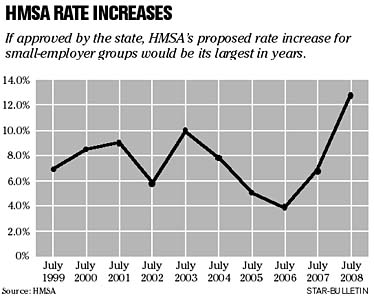 ---
"It's a very significant increase and so we're going to look at it very closely," said state Insurance Commissioner J.P. Schmidt. "An increase of this sort places a heavy burden on business -- and particularly with the economy and its unsettled state, this is an additional burden that makes it difficult for businesses here in Hawaii."
Health-care costs have long been a rising business expense, which puts a strain particularly on small businesses who are forced to provide medical insurance for full-time employees under state law, which means employers can't redirect their resources elsewhere, said Tim Lyons, executive director of Hawaii Business League, which represents about 1,500 small businesses.
"Most businesses charge what traffic will bear, so to speak, and just because health insurance goes up doesn't mean you can suddenly increase your prices," he said. "It will be challenging for all of them to weather."
HMSA posted a net loss of $22.6 million, or 1.4 percent of member dues, last year. The company said it is applying 100 percent of its investment income to subsidize rates. HMSA's reserve at the end of last year was $569.1 million.
While there was little increase in the volume of medical services last year, hospital inpatient costs went up 13.5 percent, emergency room costs increased 20.2 percent, hospital outpatient rose 14 percent, and physician costs grew 8.7 percent, according to HMSA.
HMSA said its hospital fee schedule is about 42 percent higher than what Medicare pays for commercial plan members, while its physician fee schedule is approximately 20 percent above the Medicare fee schedule.
"A lot of the increases as far as I can tell are imaginary," said Barry Blum, an orthopedic surgeon and medical director at Kona Community Hospital. "What they pay for ... the most common things most of us do -- doesn't go up -- it's all smoke and mirrors."