2008 STAR-BULLETIN ALL-STATE BOYS SOCCER TEAM
Dynamic Dydasco
The Kamehameha senior is the Player of the Year on a star-studded squad
Don't let the bone-crunching collisions and impeccable benders fool you.
Soccer is still a game of wits, and when Kamehameha entered the state championships as the unseeded entry from the Interscholastic League of Honolulu, Andrew Ah New was ready to make a move.
Like a chess master, the Warriors coach pulled one of his attackers, Zane Dydasco, and shifted him to the backfield. By tourney's end, the move paid off, as Kamehameha did the almost unthinkable, winning four matches in four nights to capture the state crown.
Dydasco was utterly brilliant. In the semifinals against unbeaten Kamehameha-Maui, he drilled a last-minute bender -- a direct kick from 18 yards out that rose over the wall and then dipped into the net -- to tie the game at 1-all and force overtime. Kamehameha went on to win on penalty kicks.
In the final against Iolani, his heroic defensive stop at point-blank range on a sure money shot by Nicholas Goo saved the night. Again, the Warriors won with penalty kicks.
ZANE DYDASCO, KAMEHAMEHA
PLAYER OF THE YEAR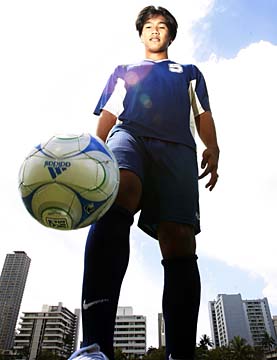 Both Dydasco and Ah New were rewarded with Star-Bulletin player and coach of the year honors by a panel of coaches and media.
Dydasco, a senior, outpointed Iolani's Blaine Gonsalves for the honor. Iolani's Chris Lee was second to Ah New in the voting for top coach. Mid-Pacific's Marc Miranda, who guided the Owls to the Division II state crown, was third.
Punahou coach David Trifonovitch became a believer in Dydasco long before the state tourney.
"Zane, in my opinion, single-handedly eliminated us from state competition," he said.
Trifonovitch wasn't alone when he noticed Ah New's tactical move at the state tourney.
"When I saw Zane playing defense, I thought, 'Oh my goodness, what is Andrew doing?' By the end, that was one of the smartest moves he ever did. Zane solidified the defense. That was a great coaching move."
Dydasco, who had enough points to earn first-team honors at two positions, was listed as an AP (all position) and joined by three teammates. Iolani also had four first-team selections.
FIRST TEAM
| | | | |
| --- | --- | --- | --- |
| Pos. | Player | School | Class |
| AP | Zane Dydasco | Kamehameha | Sr. |
| F | Blaine Gonsalves | Iolani | Sr. |
| F | Royale Komomua | Kamehameha | Sr. |
| F | Colin Lund | Mililani | Sr. |
| F | Chance Bukoski | Kapaa | Sr. |
| MF | Kevin Fung | Iolani | Sr. |
| MF | Michael Anduha | Mililani | Sr. |
| MF | Cody Felipe | KS-Maui | Sr. |
| D | Hiroshi Metzker | Iolani | Sr. |
| D | Kainoa Kahui | Kamehameha | Sr. |
| D | Reid Sakamoto | Iolani | Jr. |
| GK | Micah Swain | Kamehameha | Sr. |
Coach of the year: Andrew Ah New, Kamehameha