Halemaumau blast sends boulders aloft
Hawaii researchers initially thought a quake had occurred
STORY SUMMARY »
Unlike Mount St. Helens, which famously blew its top in 1980, Hawaii's volcanoes are not typically the explosive type.
But Kilauea's Halemaumau Crater broke the mold yesterday with a blast so powerful it sent boulders flying over a 75-acre area.
Scientists at the Hawaiian Volcano Observatory initially thought the commotion was a 3.7-magnitude earthquake.
They determined later that pent-up gas pressure caused the explosion, creating a crater up to 100 feet across.
No lava was released in the blast, and there were no signs that an eruption of lava is likely to take place.
---
FULL STORY »
HILO » A natural explosion at a glowing gas vent inside Halemaumau Crater early yesterday morning blasted rocks and boulders as much as a cubic yard in volume over a 75-acre area, the Hawaiian Volcano Observatory said.
Observatory head Jim Kauahikaua described a theory that a rocky area as much as 100 feet wide, which had been releasing huge amounts of sulfur dioxide gas, collapsed and blocked vents during the night.
Pressure built up until the area blew open at 2:58 a.m., he said.
The blast was so forceful that the observatory instruments recorded it as a 3.7-magnitude earthquake. Scientists realized only later in the day that the instruments had recorded an explosion.
No lava was released in the blast, and there were no signs that an eruption of lava is likely to take place.
Starting March 12, when the new vent releasing up to 2,500 metric tons of gas per day was first seen, the vent area was noted for its glowing red rocks at night.
There was no single vent then, Kauahikaua said. Instead there were multiple holes and cracks among the rocks, which is why gas could heat them so much.
With all those rocks now blasted away, a crater from 65 to 100 feet across is now seen in that spot, 230 feet below a national park viewing site that has been closed for several weeks, Kauahikaua said.
No glow was seen this morning following the blast, he said.
The wall of Halemaumau slopes inward. Some of the rocks from the blast rose and landed on the wooden handrails of the viewing area above, said ranger Jim Gale.
Nearby Crater Rim Drive was covered with dust and pebbles up to three-fourths of an inch in diameter, officials said. Closer to the blast, "abundant" small craters were produced by rocks up to a foot in size crashing back to earth, an observatory statement said. Rock debris also extended halfway across the floor of Halemaumau.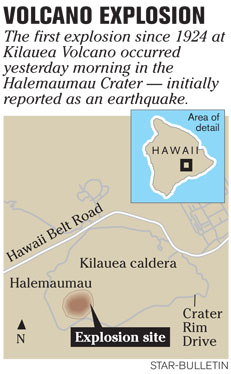 The 2:58 a.m. blast was preceded for about three minutes by shallow earthquakes or small explosions, instruments showed.
The sound of breaking rocks in the area continued through the morning, the observatory said, and other instruments showed readings associated with "continuing energetic releases of gas."
This was the first explosion inside Halemaumau since the far more massive ones of 1924, the observatory said.
On May 11 of that year, an explosion sent debris two miles high above Halemaumau.
On May 18 another explosion sent a cloud four miles high. A young man who slipped past a roadblock was 2,000 feet from the crater when it exploded. Hit by a boulder and hot, falling ash, he died while being taken to a hospital.
The observatory moved a webcam from Puu Oo to the observation tower of the observatory yesterday. The view can be seen at hvo.wr.usgs.gov/cam3.
In addition to four miles of Crater Rim Drive closed Feb. 20, the park closed the 1.5 miles from Kilauea Military Camp to the Jaggar Museum, which is now closed.