Police kill man at Pearlridge
Police say they fatally shot the man after he injured officers while fleeing in a vehicle
STORY SUMMARY »
An auto theft suspect was shot dead by police at a Pearlridge center parking lot yesterday afternoon.
Shortly after 3 p.m., police saw the suspect break into a vehicle parked on the second floor of the parking lot above Denny's restaurant.
When officers tried to make an arrest, the suspect got into a vehicle, drove away and allegedly dragged a police officer, missed another officer on foot and rammed a police vehicle. An officer fired an estimated five shots at the suspect, killing him.
The man's identity has not yet being released.
Two officers at the scene were treated for minor injuries. The suspect was pronounced dead at 3:24 p.m.
Police have opened an attempted-homicide investigation against the dead man. The police Internal Affairs Division is investigating the shooting, and the police officer who fired the weapon has been placed on administrative leave, under standard procedures.
Pearlridge management said there has not been a rash of car break-ins at the center.
---
FULL STORY »
A police officer fatally shot a 47-year-old suspected auto thief yesterday as he tried to run over undercover police officers in a Pearlridge center parking lot, authorities said.
Two police officers sustained minor injuries in the incident and were treated at the scene and released, said Honolulu Police Chief Boisse Correa.
A 15-year veteran assigned to the Pearl City area was the only one who fired, discharging an estimated five shots, Correa said.
"It appears that the force was reasonable," Correa said at a news conference at police headquarters. By law, police officers can use force to stop a threat to a person's life, he said.
Police have opened an attempted-murder case against the dead man, whom they did not name.
The police Internal Affairs Division has also opened an investigation in the shooting, and the officer who fired the weapon was placed on administrative leave -- both standard procedures, Correa said.
Correa said the shooting occurred after 3 p.m. on the second floor of the Pearlridge parking lot near Pali Momi Street.
Officers witnessed the man break into a vehicle, he said. When they approached the man, he fled in a vehicle, dragging an officer and nearly hitting another officer on foot, Correa said. The man hit a police car with a third officer inside, and a fourth officer, who was on foot, shot the man, Correa said.
The drama played out over the course of about 30 to 50 yards, he said.
Correa said the man had 18 convictions, including two felony convictions for auto theft.
Two units from Districts 2 and 3 had responded to the scene, said Honolulu police spokesman Capt. Frank Fujii.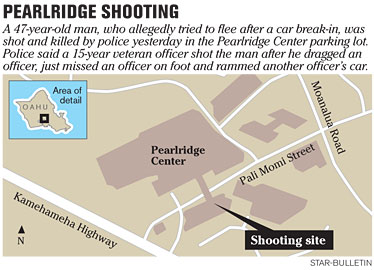 Police knew the man as a car thief, and had set up a stakeout at the mall to catch him after learning he was in the area, he said.
At Pearlridge above Straub Clinic, police closed off the satellite parking lot where the shooting happened.
A witness who gave her name as Sandy said she was reversing her car when the suspect almost rammed hers.
When she saw the officer's gun, she told her two sons to get down.
"My biggest concern was for my kids at the time," she said.
It appeared that dozens of vehicles were still in the lot behind police tape as officers investigated. Car owners were warned that it could be hours before they could get their cars.
Pearlridge officials offered stranded car owners taxicab vouchers to go home, a center spokeswoman said.
Pearlridge General Manager Fred Paine called the incident unfortunate and rare but said he supported the police actions. "We're very proud of our police officers," he said.
In a similar incident in 1996, officers shot a 16-year-old boy in a stolen Honda sedan who tried to run over officers with the car in the Pearlridge area. Police shot and killed Jared Febenito and injured another teen in the car.
Star-Bulletin reporter Gene Park contributed to this report.
POLICE SHOOTINGS
» May 13, 2006: Tracy Peters, 47, was firing a shotgun on Kaukamana Street. When police responded, Peters had two handguns in his waistband. When Peters pointed the two guns at an officer, he was shot dead.

>> April 23, 2002: Clinton Candelario was wanted on five state court bench warrants. He was found at a Kauhale Street home attempting to steal a car. An officer was pinned against the side of a garage, and two officers fired into the vehicle, killing Candelario.

» June 3, 2001: A police sharpshooter fired a round into Dustin Long at his Wahiawa home. Long had fired seven rounds, sending two people to the hospital. He also fired on police twice.

» April 17, 2001: Levi Esperas was driving a stolen van on the H-2 freeway. He attempted to flee after the van hit a concrete barrier. He got into a scuffle with officers, shooting one in his hand with a shotgun and firing at two other officers at the scene. Esperas also hit another officer in the face but was shot dead when police returned fire.

» Jan. 13, 2001: Michell Udani confronted his estranged girlfriend, Cherry Ann Cachola, at the third-floor parking lot of the Ala Moana Center. Udani shot Cachola twice in the head with a shotgun. Udani fired at police, but officers shot Udani with as many as 20 rounds.

» Oct. 3, 2000: Bernard Crivello was stopped by police during a traffic stop in Waikiki. Crivello struck an officer's vehicle several times, and appeared to head toward the officer before he was shot in the neck.

» May 4, 1998: Fortunato Barques III was shot in Pupukea because the officer believed Barques was reaching for a gun. In 2002, Barques' family was awarded a $250,000 settlement after a U.S. District Court jury found the officer used excessive force. Police found Barques' unloaded handgun locked in its holster, and it appeared Barques was reaching for a cell phone.