Top off your style
Catherine Fong's boutique is crazy with hats, and she has one to suit your mood
Hat people don't need a special occasion to don a chapeau. Just waking up in the morning is reason enough.
But for a whole lot of wannabe hat people, the first day of spring, today, or Easter present the perfect occasions.
You can get them new at any major retailer, but for something a little more unique, one of the biggest stashes of vintage hats on the island is Catherine's Closet in Manoa, where owner Catherine Fong says customers can spend hours trying on dozens of hats before finding the perfect one, or half-dozen, at $26 to $60 each.
"It's like Cinderella's slipper," Fong said. "I get a lot of pleasure in finding the right person for each hat."
Like many a vintage boutique, Fong offers clothing, jewelry and accessories, including lace dresses also perfect for springtime tea parties, but she's becoming best known for her hat collection.
Given the absence of dressy hats on Honolulu streets, she said, "I thought only I like hats, but people come in and turn into hat people after trying them on."
Even so, she said they're still shy about wearing them in public. "It's so funny because they'll sit here and try them on and have so much fun, then they'll say, 'Oh, I wish they would be in again. I wish they would come back.' "
In a casual city like Honolulu, where no one likes to be conspicuous, dressy hats haven't made a fashion statement since the 1970s, when broad-brimmed hippie hats were at least practical in keeping the sun off faces, but Fong says fashion's new focus on ladylike dressing has led to new interest in retro glamour.
"A lot of young girls, high school girls are wearing them more freely. They're really appreciating the ladylike look. They're coming in and looking for classic silhouettes, they're looking for pearls," said Fong, a singer whose style sense was informed by Billie Holiday as well as the 1950s Rat Pack.
Catherine's Closet carries an array of felt and fabric hats dating from the 1920s up to the present, plus straw and silk flower hats and feather headbands to suit the season. Some of the simplest headbands recall the earliest Easter bonnets that started as simple wreaths of flowers and leaves that celebrated the first blooms of spring.
Of course, once you've found that hat, you may have some trouble wringing it from Fong's hands. Like any collector, she wants to make sure each of her treasures finds a fitting home, and it's hard to say no when she pleads, "Can I try it on once before you go?"
---
Catherine's Closet is at 2733 E. Manoa Road, Suite 204, at Keama St. Call 988-0044.
---
BACK TO TOP
|
Try it on
The right hat is one that suits your features and sense of adventure and style: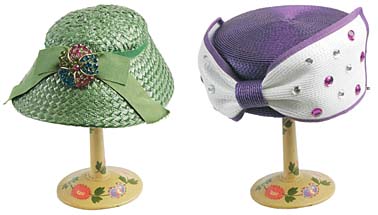 Green straw hat with rhinestone brooch, $48; and purple-and-white straw hat with jewels and bow detail, $32.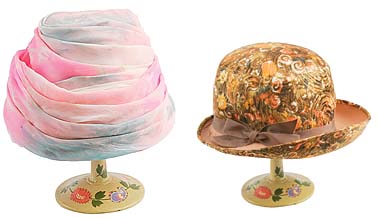 Vintage watercolor pastel turban, $32; and Linda Anne Fashions 1960s metallic brocade hat, $49.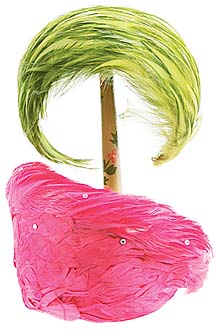 Feather hats in the bright colors of the season are popular with drama queens; $49 each.