Pele's poison gas could empty town
HILO » High levels of toxic sulfur dioxide gas at Kilauea volcano have prompted Hawaii County to beginning planning for a possible evacuation of the town of Volcano on the edge of Hawaii Volcanoes National Park.
With a new gas vent at Halemaumau, three miles from the town, continuing to put out huge amounts of gas, Mayor Harry Kim asked the state Department of Health yesterday to prepare an assessment of the risk the gas would pose to the town if winds shifted in that direction.
"If (the gas) reaches a certain level, we would have to evacuate. We don't know what that level is," Kim said.
Meanwhile, the town was hit yesterday by sulfur dioxide from the opposite direction, from the lava eruption area eight miles to the east.
"It was vile," said resident Bonnie Goodell.
The 2000 census showed Volcano with a population of 2,231 people. An additional 800 people live and work inside the national park, which is moving ahead with its own plans to protect them, said ranger Jim Gale.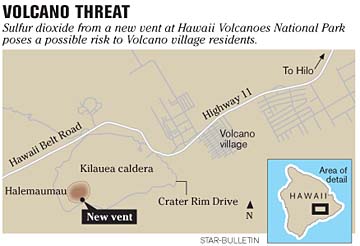 ---
A seven-member planning team was due to arrive at the park from the mainland today to prepare for emergency action, which could include evacuation if winds shift and carry sulfur dioxide through populated areas of the park.
The mainland team is needed because the present staff members already have their normal duties.
"We're all running the park," Gale said.
The Hawaiian Volcano Observatory, located inside the park, announced last week that sulfur dioxide levels reached 2,000 metric tons per day, 10 times higher than average levels last year. On Sunday, the level temporarily went still higher, to 2,500 tons per day, the observatory said.
Most of this has been blown into desert lands southwest of Halemaumau. The park earlier closed Crater Rim Drive in that desert area when levels reached 1 part per million. In spots, readings have reached 40 parts per million.
At the Department of Health, spokeswoman Janice Okubo said the park's action levels don't automatically translate to action levels for Volcano Village. The park is telling people not to drive on a certain road. The county may have to tell people to leave their homes, she said.
Deciding when to give an evacuation order may not be a simple matter of picking an action number. Goodell said the effects of the gas can be very focused.
"The thing is that the plume (from the eruption area) is pretty narrow this close, so it passes over areas much like a searchlight, very dense but very local, sometimes just a block or two wide," she said.
Children and people with breathing problems are at special risk from sulfur dioxide, the volcano observatory said.
Up to 20 percent of Hawaii's population has respiratory problems, Kim said.