State park reopening on Maui
Crews have repaired the area and planted saplings after a fire and wind storm
POLIPOLI, Maui » Recovering from a forest fire and later a wind storm that toppled numerous trees, Polipoli State Park in Upcountry Maui is reopening today after three months of repair work.
The park in the Kula Forest Reserve closed after a forest fire burned an estimated 1,700 to 1,800 acres in late January 2007.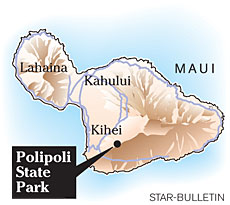 Polipoli reopened several months later before closing again in December due to storm damage.
State officials said the majority of trails have been cleared of fallen trees, and more than 132,500 tree seedlings have been planted, in part by volunteers and businesses.
"We appreciate the public's patience, understanding and support during the time the Kula forest has had to be closed," said state Land Board Chairwoman Laura Thielen.
Forestry Management Supervisor Glenn Shishido said crews are still working to clear the trees from paths, and portions of several trails will remain closed, including Mamane, Upper and Lower Waiohuli, and Upper Waiakoa.
Flooding and high winds in December damaged culverts, turned portions of roads into gullies and toppled many burned trees.
"They were literally torn apart at the base," said Shishido, who estimated the forest will take years to recover.
"We lost the existing overstory canopy," he said.
Shishido said many of the Monterey pine trees were unable to withstand the fire and storm, but the redwood trees appear to have fared better.
Torrie Nohara, a supervisor of state trails, said a "microburst" of hurricane-force winds virtually leveled the forest and caused intense damage for about a mile.
"It was flattened. It was devastating," she said. "I almost cried."
Nohara said before the storm, the forest at Waiohuli was so thick people could not see 10 feet in front of them in some places.
Since the storm, she said, people can see through the forested area and look down at distant houses in a Hawaiian homestead community.
As part of the recovery strategy, state foresters are planting redwoods in heavily wooded areas and native trees in areas with more sunlight.
In a native forest area scorched by the fire, Creighton Low sees some native mamane is beginning to re-establish its presence and that plantings of the aalii tree are beginning to take root.
"I think it's great," Low said.
"It's always a plus any time we can put more natives back in the land," Low said.
Nearby, alien weeds such as blackberry and African kikuya grass are also sprouting, threatening to dominate the low-lying forest.
Low said workers will need to cut back the alien weeds to help in the recovery of native plants.
"That'll be a battle for us," Low said.