| | |
| --- | --- |
| | Island Mele |
---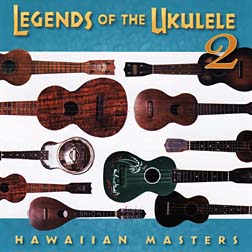 "Legends of the Ukulele 2"
Various artists (HanaOla)
Frank De Lima has a joke about the state worker who is so fast that he gets home 90 minutes before the end of his work day. This anthology, produced by longtime online deejay Aloha Joe, appears to have similar time-bending abilities. When it was officially released on Tuesday, it had already won the Hawaii Music Award for Best Compilation Album of 2007! (Johnny Kai, speaking for the Hawaii Music Awards, says that Aloha Joe had "assumed" the album would be released by the end of 2007, and that he sold 90 copies at a concert in California in December.)
With that mystery clarified there remains a truth-in-labeling issue. Having pointed out year after year that some of the artists on Daniel Ho's Grammy-winning compilations haven't reached the point where they can be truthfully described as "masters," "treasures" or whatever, it must be noted that many of the artists here also are too young or obscure to have earned "legend" status. Moe Keale, Troy Fernandez, Kelly DeLima and Jake Shimabukuro? Absolutely! A couple of the others? OK, but go much deeper and you reach people who aren't there yet. Calling anybody with decent playing skills a "legend" or a "master" cheapens the accomplishments of those who are.
Giving credit where it's due, Joe has assembled a collection of beautiful recordings that makes this an appealing showcase. Round & Round leads off with a zesty uptempo number. Next comes Dino Guzman's solo treatment of an Anton Carlos Jobim tune, and then a cut by Abe Lagrimas Jr.
"Round the World," a duet by Dennis and David Kamakahi, is an exquisite treatment of the Hollywood film theme. Kelly DeLima leads an all-star band through a crisp take on "Leimomi," and the late Moe Keale adds magic to the project with his rendition of "Moonglow."
Joe upholds the label's long-standing commitment to thorough annotation with snippets of information about each song and each artist -- the legends, and those who might someday achieve that status.
---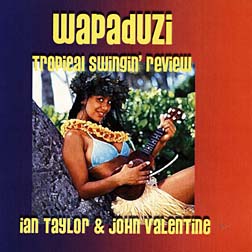 "Tropical Swingin' Review"
Wapaduzi (Studio Valentine)
John Valentine and Ian Taylor are the imaginative guys responsible for this whimsically nostalgic salute to Elvis and to classic hapa-haole hits such as "Waikiki" and "Little Brown Gal." Valentine portrayed Elvis in the Love Notes Revue until his nephew, Bruno Hernandez, joined the act as "the world's youngest Elvis" in the early 1990s; he also is a talented guitarist.
No individual performers' credits are included, so there's no way to tell who's doing what, but Valentine and Taylor are imaginative arrangers. Consider, for example, a reworking of "Waikiki" that includes Tahitian drums, the instrumental theme of the Tom Tom Club hit "Genius of Love" and a salute to KC and the Sunshine Band!
Wapaduzi's "Moon/Surf Medley" starts with a guitar-rock version of "Moon of Manakoora" and goes on to include melodies by the Stray Cats, Surfaris, Isley Brothers and Ka'au Crater Boys.
Other selections suggest the influence of Duane Eddy, Guy Marks, Jive Bunny & The Master Mixers, Taco and the Brian Setzer Orchestra.
In short, Valentine and Taylor are approaching hapa-haole and pop standards from unconventional perspectives.
The duo also produced the album, and to them goes the blame for the lack of composers' credits. The opening song, "What I Like About Elvis," is a good demonstration of Valentine's skill as an Elvis impersonator, regardless of who the composer might be.
---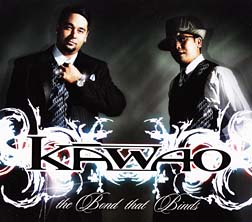 "The Bond that Binds"
Kawao (Jus-us Kawao)
The formal attire they're wearing on the cover suggests that Walt G and China are smooth urban balladeers, but the contents define them as a straight Jawaiian act. Almost every song is built around the familiar reggae-style interplay between a walking bass line and a steady one-note riff on electric keyboards; several sound perfect for local radio.
Give Kawao credit for going almost entirely with originals by Walt G. The writer of "Street Beat" isn't credited, but the song doesn't stand out as being noticeably better than the others -- and that's a good thing.
Unfortunately, the duo also has a penchant for affecting old-school pseudo-Jamaican accents. That's not a good thing!
Kawao displays their potential as urban balladeers with "Make Tonight the Night." They also pay homage to the funk and soul acts of the '80s with "Turn Me On."
---
John Berger
, who has covered the local entertainment scene since 1972, writes reviews of recordings produced by Hawaii artists. See the Star-Bulletin's Today section on Fridays for the latest reviews. Reach John Berger at
jberger@starbulletin.com
.