---
FAST FACTS HAWAII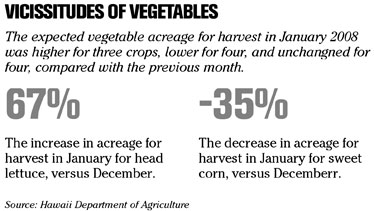 ---
Oceanic to debut HD local sports
Oceanic Time Warner Cable
will broadcast state boys' basketball championship games in high-definition at 6 and 8 p.m. Sat. Feb. 23.
Channel 1016, in Oceanic's HD tier, has been showing OC16 programming that is upconverted to HD.
The basketball games, however, will be shot, produced and transmitted in high-def at 720p resolution, Mitzi Lehano, vice president of programming, told the Star-Bulletin.
It is Oceanic's goal to have all of its OC16 programs in high-definition within a year "and starting in the fall, we plan to do most of our sports in high-def," she said.
Laird retiring from the ad biz
Anthology Marketing Group
managing director Buck Laird is to retire March 31, after a 35-year career in Hawaii that included co-founding what has become the state's largest advertising agency, Laird Christianson Advertising (LCA).
Laird, 65, co-founded LCA, now an Anthology unit, in 1989 with David McNeil and David Wilson, also principals in Anthology. In addition to providing clients with "sound counsel and quality programs," he has been "a mentor for scores of young marketing professionals who are now in high level positions throughout our industry," said partner Dennis Christianson.
Laird will retain an advisory role in the company.
Brief case
WHOLE PROFITS:
Profits at natural foods grocer
Whole Foods Market Inc.
fell 27 percent to $39.1 million in the most recent quarter as the cost of its acquisition of Wild Oats dragged on earnings. But sales were up 32 percent to $2.46 billion, and sales at stores open at least a year were up 7 percent.
STILL OFF COURSE: The top executive at Gap Inc.'s slumping Old Navy clothing chain has left the retailer after spending 16 fruitless months trying to engineer a turnaround. Gap says Dawn Robertson will be replaced by Tom Wyatt, who runs Gap's outlet stores, until a permanent replacement is found.
Board elections
» The Hawaii Psychological Association has elected its officers for the 2008 board of directors:
Brad Klontz, president; Rosemary Adam-Terem, president-elect; Robin E.S. Miyamoto, past president; Chad Grills, secretary; and Jeffrey Stern, treasurer. Neighbor island representatives are Tim Ambrose, Hawaii county; Darryl Salvador, Maui county; and Alexander Bivens, Kauai county.Promotions
New hires / Promotions
» The Lafayette Life Insurance Co. has named longtime Honolulu resident
Jerry B. Stillwell
as president and chief executive officer. He replaces Lawrence L. Grypp, who has retired. Stillwell joined the company in 1997 as chief marketing officer and served as senior vice president and chief marketing officer prior to his promotion. His 37 years of insurance experience include vice president of sales for Columbus Life Insurance Co. and Ameritas.
» Kiewit Building Group has announced the following new hires:
Kathryn Acorda as director of strategic partner development. She will oversee the firm's business relations with clients, design firms, subcontractors and the community, as well as marketing and public relations. Previously she was regional marketing director for Crescent Heights of America.
Linda Tran as human resources manager. She previously served as human resources director for First American Title Co. and is chairperson of the Society of Human Resources Management Oahu Educational Foundation's college relations committee.
Sherman Wong as preconstruction manager. He is responsible for all pre-construc- tion planning, including training and estimates for new projects. His 14 years of master planning, architecture, project management and construction management experience include project manager for Castle & Cooke Homes Hawaii.
» The Hawaii Medical Service Association has announced the following promotions:
Linda M. Axtell-Thompson to assistant vice president of the office of strategy management and the privacy office from director of the office of strategy management. She oversees corporate strategic planning, competitive analysis, policy analysis and privacy compliance.
Cynthia Ajifu to director of operations assessment and information protection unit from manager of operations assessment. She is responsible for corporate process efficiency, regulatory compliance, special projects and information security.
Katy Akimoto to assistant vice president of legal services and special projects from director of legal services. She is responsible for administrative functions and special projects related to HMSA legal services and the organization's goals.
» Island Insurance Co. has named Sharon K. Ohata as director of training and development. She will design, develop and implement training programs for the company. Her previous jobs include vice president of claims consulting services at Atlas Insurance Agency and vice president of the John Mullen and Co. workers' compensation department. She has 26 years experience in the insurance industry.
---
BUSINESS PULSE