Northern Exposure
Seeing Alaska from a cruise ship comes with a boatload of fitness and fun
STORY SUMMARY »
Once upon a time, I harbored a cynical attitude about shipboard vacations, feeling certain that overly cheerful cruise directors chained you to the shuffleboard court with people twice your age, releasing you only to eat copious amounts of grease-laden food at a prearranged time, whether or not you were hungry.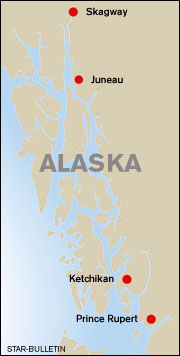 That was until I toured the Hawaiian Islands aboard the Norwegian Star in 2003.
Since then, NCL refurbished the Star, added a casino and sent it to Seattle and Alaska, where my extended family and I sailed through icy waters and quaint ports last summer.
If you prefer to be a slothful drunk (football helmets filled with chilled beer bottles by the pool!) on board these ships, that's your prerogative, but there's a whole new world out there for active travelers.
Healthy cuisine occupies a portion of every menu in the Star's 13 restaurants, where you can eat when you please, thanks to Freestyle Cruising.
The "lap pool" is not anything of the kind for people who actually swim, but an impressive gym provides a steady selection of yoga, Spinning, Pilates, stretching and fitness seminars in front of floor-to-ceiling glass walls, affording spectacular views of glaciers and expansive wilderness. Nobody in our group had time to gain weight.
---
---
FULL STORY »
The cruise idea began with my mother. A year earlier, she convinced my stepfather that they should celebrate their 30th wedding anniversary with the entire family. But what could her brother - suffering from advanced Parkinson's disease and often relegated to a wheelchair - and her six grandchildren, ranging in age from 4 to 15, enjoy together for a week? The Norwegian Star turned out to be the perfect solution.
To start, we all felt welcome and included. Everyone from the wait staff at the restaurants to the people cleaning the cabins made time to greet us, inquire if we were happy or needed assistance, and really seemed to care about our responses.
If you go ......
» Inside cabins: Start at $699 per person (via Internet), double occupancy, for a week aboard the Norwegian Star. Prices rise toward the peak season in mid-summer.

» Norwegian Cruise Line has three ships touring Alaska's scenic waters- the retrofitted Star, the Sun and the new Pearl. Prices vary significantly, depending on the ship, timing and itinerary. Don't wait too long to make reservations. For more information and prices of shore excursions in each port, visit www.ncl.com.

» Other cruise lines stationed in Alaska include Princess Cruises (four ships), Holland America Line (three ships), Royal Caribbean Cruise Line, Celebrity Cruises and Carnival Cruise Line (one each).
On the Net
» Alaska's best bear-viewing web sites: www.nps.gov/aplic or www.wildlife.alaska.gov/
viewing/bearviewing-sites.pdf.

» Wildlife viewing tours and tips: www.travelalaska.com/Activities/
Wildlife/index.aspx

» Denali National Park: www.nps.gov/dena/ or 907-683-2294.

» Denali Bus Tours: www.reservedenali.com or 800-622-7275. Tundra Wilderness Tour offered May 25-Sept. 11, adults $93.50, children 14 and under, $46.75. Reservations being accepted now for summer 2008.

» Cruises: Holland America, www.hollandamerica.com. Carnival, www.carnival.com. Royal Caribbean, www.royalcaribbean.com. Princess and Celebrity also cruise to Alaska.

» Chilkat Bald Eagle Preserve: www.dnr.state.ak.us/parks/
units/eagleprv.htm.
Entertainment by a cadre of talented performers highlighted the activities. We found ourselves arranging our meals around the shows. The assortment (your teenage son and your grandmother will be happy, though maybe not on the same evening) included an edgy - and hilarious - comedy routine, acrobatics and Broadway-style singing and dancing.
During the day the kids swam in the pool and Jacuzzi, played pingpong and chess with other teens they met on deck, and hung out in the card and game room (board games, not electronics). In the fantasy environment, wholesome fun acquired a new appeal, and the arcade grew a little less enticing. The movie theater also offered a different (and popular) flick every night, but we always gravitated toward the Stardust Theatre, vast and impressive enough to make you forget you're on the ocean.
A sense of boredom or claustrophobia never set in, even during the days at sea. But exploring the charming ports of Alaska on the round-trip Seattle excursion was one of the key reasons we chose this destination.
Our first stop was Ketchikan, a city built on stilts to accommodate the fluctuating tide, though we missed the spawning salmon clogging the waterways. The lumberjack show was an inexpensive option that allowed plenty of free time to shop for souvenirs and sample local (including Canadian!) culture. It turned out to be as much a comedy routine as a display of log climbing, sawing and chopping skills.
In Juneau we opted for a longer, pricier tour that involved paddling in a 12-person canoe to a massive glacier over 38-degree water. Waterproof gear, essential in unpredictable weather, was provided.
We glided for about 45 minutes past chunks of ice bluer than the ocean or sky while our guide explained how the minerals in the glaciers and breakaway pieces create the depth of color. Afterward, we wandered through town to the famous Red Dog Saloon, with its sawdust floors, massive animal trophies and Wyatt Earp's gun on display.
When you stick to the shopping areas near the cruise ships, everything starts to look the same: mostly totem poles, dream catchers and diamonds. The fact that NCL owns many of the stores gives them a cookie-cutter appeal. But that doesn't mean you can't find interesting, locally crafted items. It just requires some searching.
In Skagway we spent hours riding the scenic and historic White Pass and Yukon Route Railway, which required an international crossing into Canada (and a passport), and finished with all of us panning for gold.
The final stop in Prince Rupert, British Columbia, was more brief. My sister opted to kayak with her husband and four children, but we decided to stroll around town, visit a museum and shop. Some people, in full relaxation mode, didn't even bother to get off the ship.
A program called B.A.G.S. turned out to be a nice addition to the cruise experience. There are several ways to disembark with your luggage, including the option to carry your own. Instead, we paid $15 per person (for two bags each). The night before we arrived back in Seattle, special baggage tags and our airline boarding passes waited for us in our stateroom.
All we had to do was pack our suitcases by 1 a.m. (more difficult than it sounds on the last night of a seven-day cruise, when your brain has slowed a notch or two) and leave them outside our door. The crew whisked them away, took them to the airport and checked them in. We didn't see them again until we reached our final destination.
The efficiency allowed us to tour Seattle and visit the Space Needle before our flight without worrying about storing our luggage or returning to the ship to fetch it. Our airport arrival and check-in could not have been easier as we breezed right to the gate, boarding passes in hand.
The only complaint from our group of 16 involved cigarette smoke. My two children and I shared a minisuite with a lovely balcony that we could never use because of our neighbors' habitual puffing. Most public areas remain smoke free, but clouds waft from the casino and bars where it's allowed, affecting nonsmoking guests.
Other than this minor aberration, the trip produced fond memories of some of the best moments ever spent with my family. We're just hoping the marriage lasts another 30 years so we have an excuse to do it again.